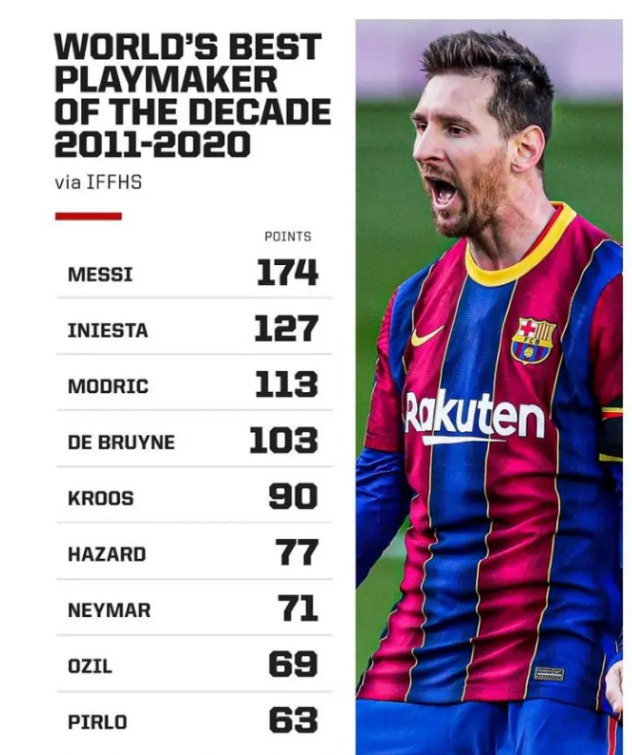 In this article we will be writing on world best player of the decade according to IFFHS
An organisation that chronicles the past and records of association football is the International Federation of Football History & Statistics (IFFHS).It was established by Alfredo Poge in Leipzig on 27 March 1984, with the blessing of the then FIFA General Secretary, Helmut Kaserer.
Here are the world best play maker of Decade 2011-2020 and how many points they have.
Lionel Messi: plays for Barcelona, 174 points, Andrea's Iniesta: retired, 127 points, Lukas Modric: plays for Real Madrid, 113 , Kevin De Bruyne: plays for Manchester City, 103 points, Tony Kroos: plays for Real Madrid, 90 points, Eden Hazard: plays for Real Madrid, 77 points, Neymar Jr: plays for Paris Saint German, 71 points, Mesut Ozil: plays for fernabahche, 69 points, pirlo: retired 63 points.
Mesut ozil is a German professional footballer who plays for Süper Lig club Fenerbahçe as an attacking midfielder. He has also played in his career as a wide midfielder. He won three FA Cups in England and helped end Arsenal's nine-year trophy drought, recording the second most assists ever(19) in a Premier League season.Ozil joined Fenerbahce in 2021 on a free transfer.
Content created and supplied by: Heisfrisky (via Opera News )