The table below, shows the best way the Real Madrid would have lineup if they never sold any of their players.
Real Madrid is indeed the best la Liga club in Europe. The real Madrid are really doing great this season but they are in the third position of the LA Liga table. They did better last season than this season. Had it been they are still with this best eleven players, they would have played unbeaten throughout this season.
From the table, the selected best real Madrid goalkeeper Was selected to be courtois. He is the real Madrid number one goalkeeper.
The defenders
The selected defenders from the table below are Hernandez, Hakim, Varane and Sergio Ramos.
The midfielders
The selected Real Madrid midfielders from the table are selected to be Kroos, Casemeiro and Valvarde.
The forwarders
The selected Real Madrid forwarders from the table were selected to be Ronaldo, Morata and Di Maria.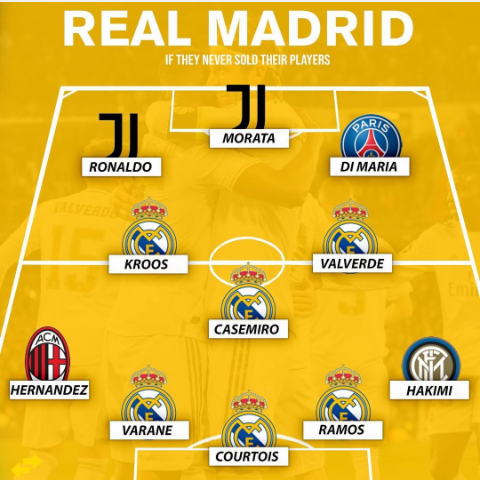 What do you think about this lineup. Don't you think they would have played unbeaten in they still lineup like this
Content created and supplied by: Challyboy (via Opera News )