Sheffield United played a 1-1 draw with Fulham as both teams earn their first point of the season.
Crystal Palace also played a 1-1 draw against Brighton today. Mac Allister scored a late goal to secured a late draw for Brighton.
Tottenham threw away a 3-0 lead as West Ham United fought their way back to draw to Spurs despite being three goals down in the first half.
Aston Villa continue their brilliant start to the season as they maintain their unbeaten run as they defeated Leicester City today.
Here are the results of all the games played today.
Sunday 18th October (Results)
Sheff Utd 1-1 Fulham
Crystal Palace 1-1 Brighton
Tottenham 3-3 West Ham
Leicester 0-1 Aston Villa
Below is the EPL Table after those results
Premier League Table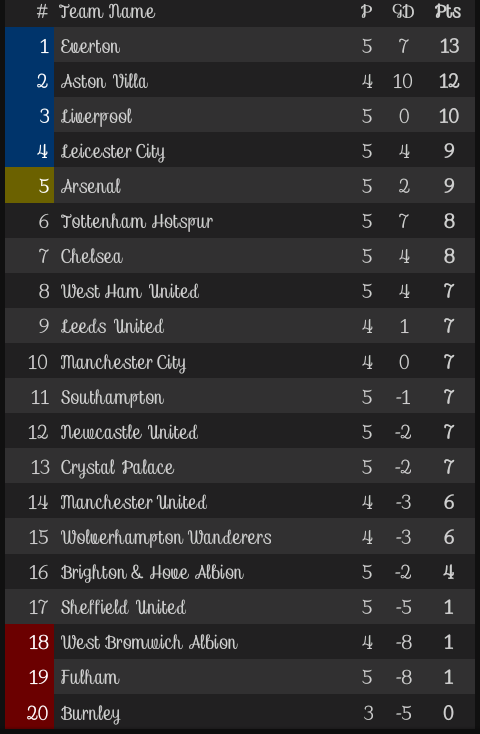 Pos Team P W D L GD Pts
1. Everton 5 4 1 0 7 13
2. Aston Villa 4 4 0 0 10 12
3. Liverpool 5 3 1 1 0 9
4. Leicester City 5 3 0 2 4 9
5. Arsenal 5 3 0 2 2 9
6. Tottenham Hotspur 5 2 1 1 7 8
7. Chelsea 5 2 2 1 4 7
8. West Ham United 5 2 0 2 4 7
9. Leeds United 4 2 1 1 1 7
10. Manchester City 4 1 1 1 -1 7
11. Southampton 5 2 1 2 -1 6
12. Newcastle United 5 2 1 1 1 7
13. Crystal Palace 5 2 1 2 -2 7
14. Manchester United 4 2 0 2-3 6
15. Wolverhampton Wanderers 4 2 0 2-3 6
16. Brighton & Hove Albion 5 1 1 3 -2 4
17. Sheffield United 5 0 1 4-5 1
18. West Bromwich Albion 4 0 1 3-8 1
19. Fulham 5 0 1 4-8 1
20. Burnley 3 0 0 3-5 0
Content created and supplied by: Playfootball (via Opera News )