The table below, shows the best formation the Liverpool coach Jurgen Klopp could adapt and win their next eight premier league games.
The Liverpool are gradually loosing form in premier league. They are currently in the fourth position and this is not good for the premier league defending champion.
The Liverpool could adapt to this formation and get back to their unbeaten form again in premier league.
The table shows the Liverpool goalkeeper to be Allison.
The defenders
From the table, the Liverpool defenders are Alexander Arnold Trent, Davis, Kabak and Robertson.
The midfielders
The selected Liverpool midfielder from the table below are Thiago Alacantra, Henderson and Wijanaldium.
The forwarders
The selected Liverpool forwarders from the table below are Firmino, the right winger Was selected to be Mohamed Salah and the left winger is Sadio Mane.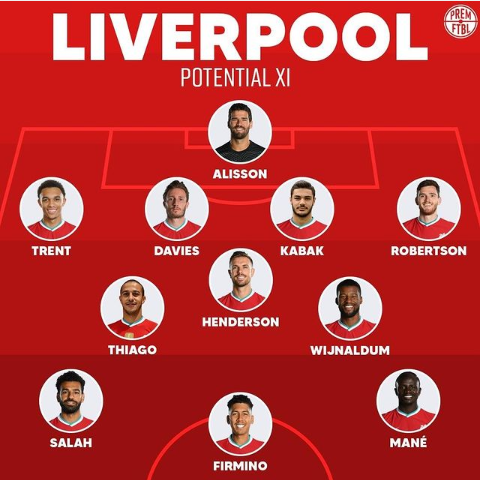 What do you think about this selected eleven top Liverpool players, could they play unbeaten in their next Eight matches?
Content created and supplied by: Emelastepen (via Opera News )