Hog plum also as yellow mom in monkey mom in(spondias mom in)
Hog plum is a small drupe fruit with and thin pulp surrounding its cork-like seed. The fruit is scientifically known as spondias mombin. It belongs to the family of anacardiaceae, some family as cashew, mongoes and pistachios. The fruit comes in diverse colours, including green, purple, red, orange and yellow. It is known as Iyeye or Ebo in Yoruba, Ngulungu in Igbo and Isada in Hausa.
Hog plum is native to central america and the Caribbean, though it has also naturalised in some part of Africa it is rarely cultivated. It grows during the Nigerian rainy season between July and August. It is either sweet or sour in taste.
Nutritional value and components of Hog plum
Hog plum is rich in vitamin AandC, which is essential vitamin for the body. It is a natural antioxidant that protects the body from damage caused by free radicals. It has lot of nutritional contents which include sodium, calcium and magnesium. It also contain iron which aid in production of haemoglobin and myoglobin, with a minimal amount of protein and fat.
HEALTH BENEFITS OF HOG PLUM.
Below are some of the benefits we enjoy for consuming hog plum:
1.Balances Body Temperature:
Hog plum plays a significant role in controlling the temperature of the body. It help to decrease the excess temperature of the body.
2.Good For Digestive Health :
Hog plums are rich in dietary fibre which plays a key role in maintaining a healthy digestive system. The fibre content helps in improving the general functions of the digestive health and as well prevents conditions like bloating and gas.
3.Enhances Bone Health:
It is a fat free, sodium free, cholesterol free fruit and good source of vitamin K that helps in proper bone health. The vitamin K those not just help in blood clutting, but also help in making the bone strong, thereby preventing fractures.
4.Rich In Antioxidants:
The fruit contains good quantities of vitamins, minerals and phytochemical properties that perform oxidation functions in the body system.
5.Promote muscle strength :
Thiamine is one of the vitamins that is found in hog plum. It help in muscle contraction. Its deficiency could lead to many symptom such as muscle weakness which could even lead to confusion in most cases. So, adequate intake of this fruit can help eliminate the chances of this condition.
6. Oral Sore Treatment:
The leaves of hog plum may be used for treating oral sores. The same thing is known to be effective remedy for all sort of infections
concerning The oral cavity.
Please like and comment below
BENEFITS O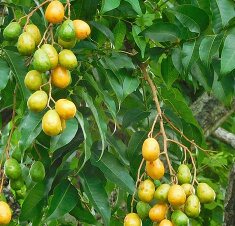 Content created and supplied by: Kelvegihezie (via Opera News )