We know the most costly signings in football history as of now, so now it's an ideal opportunity to look at who are the 5 greatest re-signings.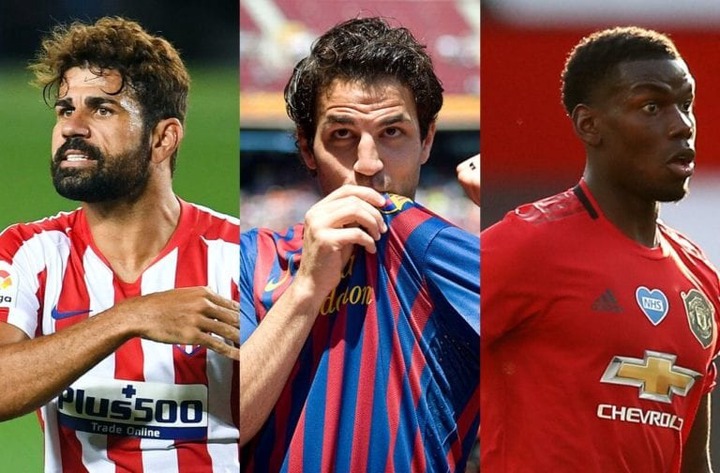 Now and then an old face ticks all the crates for clubs as opposed to new ones, driving them to go through a ludicrous measure of money. It's a touch of confounding once in a while. Particularly if that player left under disputable conditions or for some different questionable explanation. 
In any case, for these players, there is no spot like home. 
The club boss marking them, in the mean time, will know precisely what they're receiving as a byproduct of their cash. That is something you can't generally make certain about an obscure player. Thus, it's consistently somewhat of a bet marking another person contrasted with an old face. 
Be that as it may, exactly what amount is spent on selecting old players? Also, who is the most costly re-marking in football history? How about we look at it… 
1. Cesc Fabregas (FC Barcelona) – €34m 
Viewed as one of the lost gems of Barcelona's La Masia institute during his days as an Arsenal player, Fabregas turned into a first concern for the Catalans as his profile developed in north London. 
The midfielder grew spectacularly under Arsene Wenger, joining Arsenal as a 16-year-old in 2003 and turning out to be club chief five years after the fact. 
Be that as it may, Barcelona in the long run had their way by re-marking Fabregas in 2011 for €34m. Nonetheless, the player's arrival home kept going only three years. He wasn't generally appropriate for the club's style of play and supported an arrival to the Premier League, prompting a transition to Chelsea in 2014. 
2. Nicolas Anelka (Paris Saint-Germain) – €34.5m 
The now-resigned striker started his profession at PSG in 1995 however battled to break into the main group. In this way, he left for Arsenal for over €700,000 and formed into an energizing youthful ability. 
Anelka's ascent to unmistakable quality in north London caught the enthusiasm of Real Madrid, who marked him for €35m in 1999. Be that as it may, his time in Spain finished in disillusionment. He came back to PSG a year later for €34.5m before leaving again in 2002. 
3. Paulinho (Guangzhou Evergrande) – €42m 
We don't which one is the greater puzzle – Barcelona burning through €40m to sign Paulinho, or Guangzhou Evergrande re-marking him for €42m! 
The Brazilian midfielder left the Chinese club in 2017 for Barcelona and appreciated a solid introduction battle. He gave nine objectives and three aids 49 appearances, winning La Liga and the Copa del Rey. 
In any case, Paulinho came back to Evergrande the accompanying season on credit before the Chinese club bought him last January for €42m. 
4. Diego Costa (Atletico Madrid) – €66m 
The Brazilian-conceived striker rose to unmistakable quality under Diego Simeone at Atletico Madrid, persuading Chelsea to sign him for €38m in 2014. 
Costa scored an amazing 58 objectives in 120 appearances for the Blues, winning the Premier League twice and EFL Cup. Be that as it may, an appalling drop out with Antonio Conte finished his days in London. In this manner, he came back to Atletico in January 2018. 
In spite of the fact that Costa still can't seem to legitimize his €66m sticker price since coming back to the Spanish capital. 
5. Paul Pogba (Manchester United) – €105m 
Mindful that normal first-group openings would be troublesome at Old Trafford, Pogba marked for Juventus in 2012 for nothing. 
The Frenchman formed into one of the Europe's best midfielders during a four-year spell in Turin, winning the 2013 Golden Boy grant and four Serie A titles. 
He at that point made an arrival to United in the late spring of 2016 for a then-world record charge of €106m, turning down Real Madrid and Barcelona simultaneously.
Content created and supplied by: Lammie2 (via Opera News )