Patrick Bamford scored a brilliant hat-trick as Leeds United thrash Aston Villa 3-0 to end Aston Villa's unbeaten run in the Premier League on Friday.
The result lifts Leeds to the third spot while Aston Villa remains in the Second Position on the EPL Table.
Below is the EPL Table after Aston Villa vs Leeds game.
Premier League Table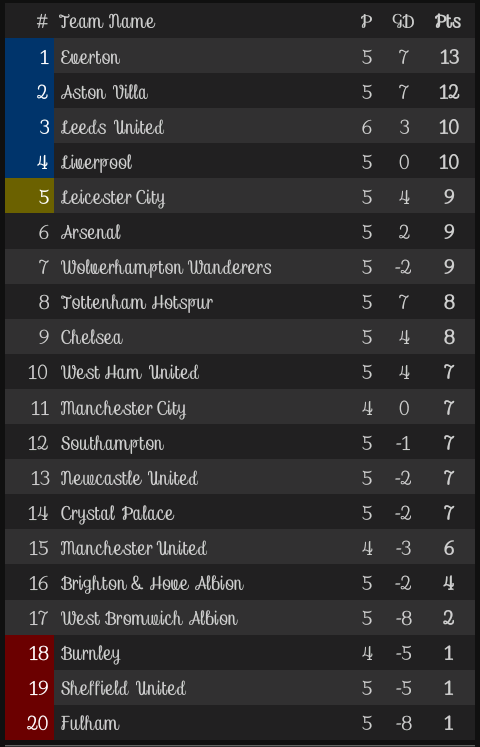 Pos Team P W D L GD Pts
1. Everton 5 4 1 0 7 13
2. Aston Villa 5 4 0 1 7 12
3. Leeds United 6 3 1 2 3 10
4. Liverpool 5 3 1 1 0 10
5. Leicester City 5 3 0 2 4 9
6. Arsenal 5 3 0 2 2 9
7. Wolverhampton Wanderers 5 3 0 2 -2 9
8. Tottenham Hotspur 5 2 2 1 7 8
9. Chelsea 5 2 2 1 4 8
10. West Ham United 5 2 1 2 4 7
11. Manchester City 4 2 1 1 0 7
12. Southampton 5 2 1 2 -1 7
13. Newcastle United 5 2 1 2 -2 7
14. Crystal Palace 5 2 1 2 -2 7
15. Manchester United 4 2 0 2 -3 6
16. Brighton & Hove Albion 5 1 1 3 -2 4
17. West Bromwich Albion 5 0 2 3 -8 2
18. Burnley 4 0 1 3 -5 1
19. Sheffield United 5 0 1 4 -5 1
20. Fulham 5 0 1 4 -8 1
Content created and supplied by: Playfootball (via Opera News )