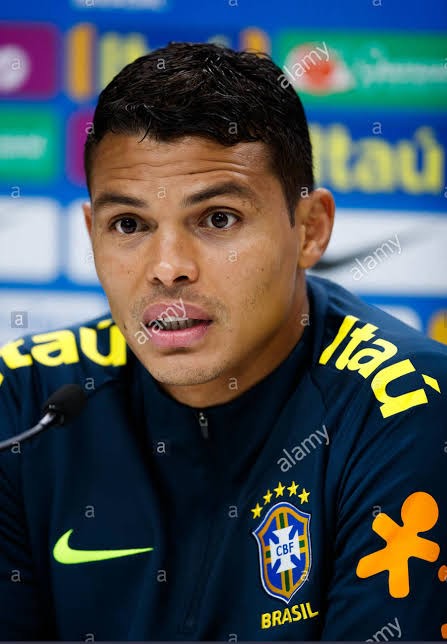 Thiago Silva boost his teammates moral against Atletico Madrid game tonight, despite the fact that the star player (Thiago) will not be available.
Here is what he said:
"Unfortunately I won't be in the field with you tonight @chelseafc , but I'll be cheering from the stands of #StamfordBridge !! God bless you all".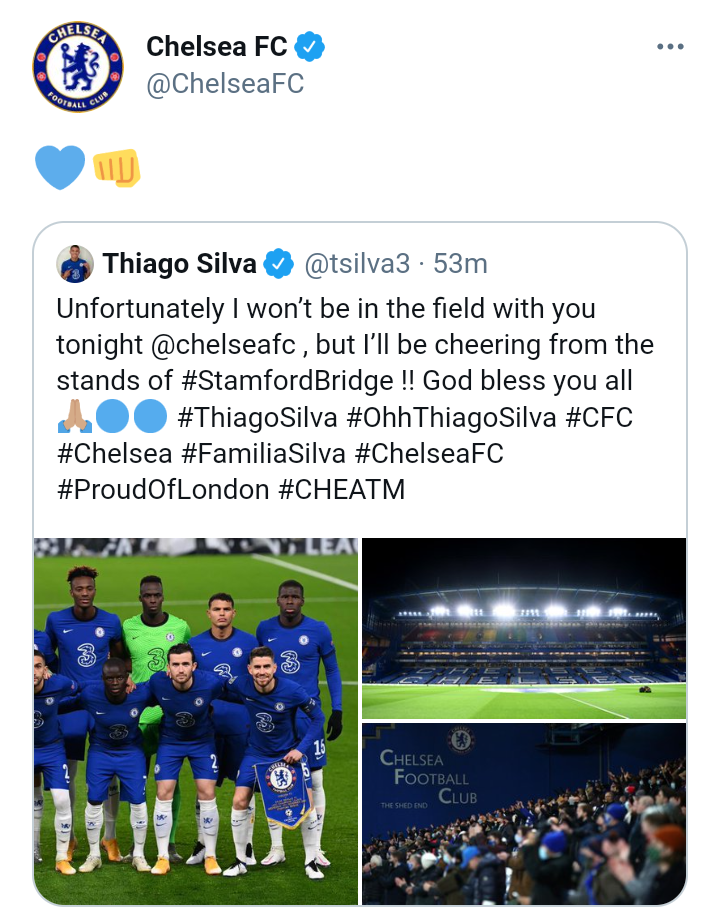 Chelsea manager, Thomas Tuchel Shower praise On His Players For Outstanding Performance
Thomas Tuchel said that:
'It was a really big win for us and a deserved win. The amount of effort and intensity from the team in both legs was outstanding and incredible. We missed four key players but everybody else stepped up so I'm very happy.
'There were moments when we were excellent with the ball, we had brave and courageous defending, and adapted to any system the opponent played. It was a big win, a deserved win and I'm super happy for my players.'
The boss was particularly pleased with the contribution of Ziyech, whose goal settled nerves.
'He played today because he did it with Ajax and he came to a semi-final. He has good experience in the Round of 16, he knows how it feels to arrive in the knockout round and go through to the last eight.
See Fans Comments
Maximus Moment Collision symbolHundred points symbolGladiatorHundred points symbolCollision symbolHakim Ziyech = Stamford bridge on FireFire
I have a feeling Chelsea will crawl through to the final and maybe win
Dizzy symbolBlue heartZiyechMagicBlue heartDizzy [email protected]
Ziyech gives everything, we want to replace Mason workload with Hakim but am supposed to believe what reactionary fans think. ZIYECH is never lazy..judging a player on 1 video is a child's game
Africa Fresh [email protected]
Imagine Hazard in this current Blues team and form
Danson [email protected]
Coach, you're doing well. Just get a top 9 and you'll be unstoppable. I know how you feel not being comfortable deploying Giroud or Tammy. The low goals ain't reflecting the possession and attack we have
[email protected]@Sosyfine
This man is just too good with words as a fan you are happy to hear him speak and as a player you see the delight he has for the group
Stone [email protected]
I love to listen to this man talk. I see so much success in the future with him at the helm and the kind of mentality he has
the [email protected]_Troot
I wished that fans was on the pitch today to watch this match.. thank you #TUCHEL
Twiiter VAR ❁@Ziyechma
Best German manager in the league Blue heart
1355 [email protected]_morris
I guess the manager DOES make a difference Thinking face
I missed watching but the Chelsea fans sure had a gala time
Rian [email protected]
Makdes mas thomas
What a guy. Grounding ziyech but the praise is second to none
Content created and supplied by: Olaiyasport (via Opera News )