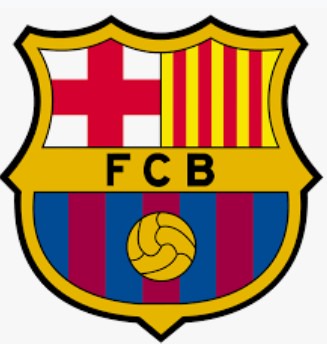 FC Barcelona is one of the most powerful and iconic football clubs in world football.
Their badge is easily recognisable across the world and has connotations of success, prestige, and wealth. However, what are the four components that make up the Catalan giants' crest?
Throughout the years, Barcelona has updated its club crest to follow the trends of modern football. Four elements have always featured on the crest since 1910. They are the cross of Saint George, the Senyera (Catalan Flag), the club's kit colours, and a football.
Each element has its own meaning in conjunction with the values that the club holds.
For centuries the club has been at the pinnacle of world football while battling it out for domestic and European success with their arch-rivals, Real Madrid.
The ' El Clasico ' rivalry surpasses on-field differences and expands into the political landscape of Spain. Barcelona seemingly represents Catalonian values whereas their rivals represent Spanish central values.
The Senyera / Catalan Flag
The Catalan flag, known as the Senyera, has adopted the nickname 'the four bars' as it consists of four red horizontal bars above a yellow background. The flag was the standard of the King of Aragon.
Aragon was one of the largest and most powerful regions of medieval Iberia and it is still apparent in the Spanish coat of arms.
Catalonian independence is still a strong idea and goal for the citizens of Barcelona. A 2017 referendum saw major strikes and clashes with police, which eventually saw Barcelona's home fixture against Las Palmas moved to behind closed doors.
The use of the Senyera on the club crest is a means to reconnect to the history and culture of Catalonia.
Across the 2015/16 La Liga season, Barcelona produced a mainly yellow away jersey with four red bars horizontally down the back of the shirt which was an ode to the Senyera.
Burgundy & Blue Stripes and a Single Football
The most potentially eye-catching feature on Barcelona's crest in the burgundy and blue stripes that feature on their famous home kit.
Across the world, the colour scheme is immediately identifiable with the football club due to the number of world-class players that have donned the jersey.
From Johan Cruyff to Lionel Messi, legends of the game have achieved incredible success while playing for Barcelona.
On top of the striped pattern lays a football. No explanation needed there.
Not only has Barça got a memorable crest, but the ethos in terms of playing style is also legendary. Pep Guardiola's 'tiki-taka' style of football earned many admirers off the pitch and much success on it.
Content created and supplied by: Ifeanyi111 (via Opera News )