The below statistics below, shows the comprehensive statistics of the premier league top best attacking midfielders for the 2019/2020 season.
Theses players are the Manchester unites player Bruno Fernandes, the Aston Villa player Jack Grealish and the current Everton player James Rodriguez.
These players ate highly prolific in the transfer market. However, they rated as the world best attacking midfielders.
From the the table, the 25 years old Portuguese player Bruno fernandes is the top Manchester united midfielders who plays in the Portuguese national team. However, is is one of the Manchester united top goals scorer last season. Since his debut, he has played 18 games and scored 20 goals
The 29 years old player James Rodriguez is the Top Everton player who was debuted this season and has made an excellent impact I'm the club this season. However, he has played 5 games and scored 6 goals this season.
The 25 years old Aston villa player Jack Grealish is the top Aston villa midfielder who has played for the club for years now and has been doing greatly in the club. However, he played 40 games and cored 20 goals since 2019season.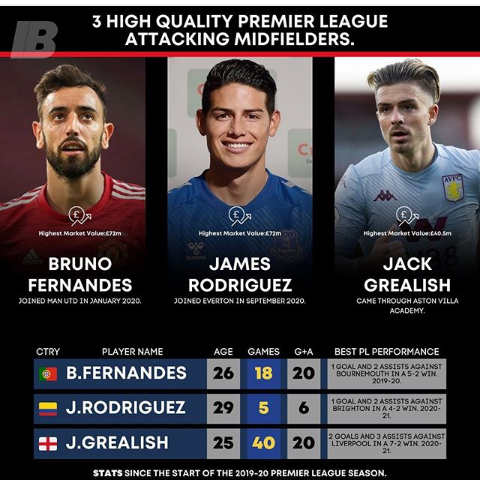 Who will make the best midfielder in premier league this season.


Content created and supplied by: Challyboy (via Opera News )