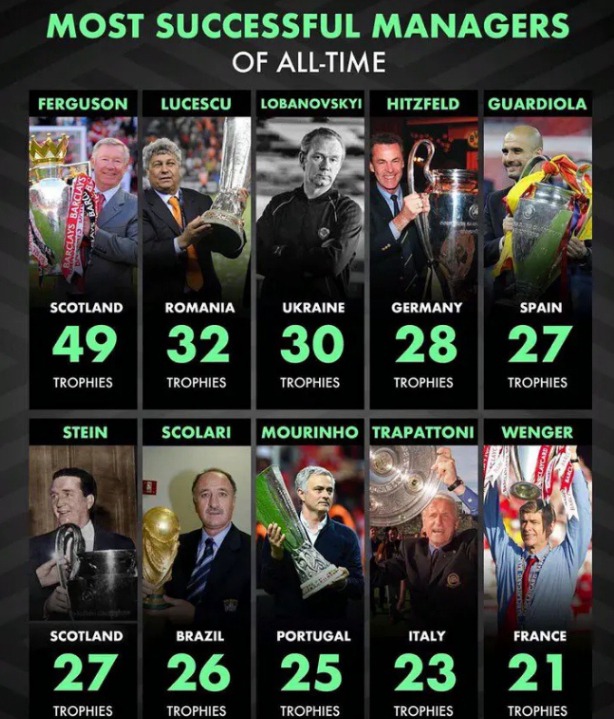 Here are the names and numbers of trophies won by the 10 Most Successful Managers.
Sir Alex Ferguson: From Scotland, Won 49 trophies
Mirecea Lucescu: From Romania, Won 32 trophies
Lobanovskyi: From Ukraine, Won 30 trophies
Hitzfeld: From Germany, Won 28 trophies
Pep Guardiola: From Spain, Won 27 trophies
Jock Stein: From Scotland, Won 27 trophies
Luiz Felipe Scolari: From Brazil, Won 26 trophies
Jose Mourinho: From Portugal, Won 25 trophies
Giovanni Trapattoni: From Italy, Won 23 trophies
Arsen Wenger: From France, Won 21 trophies
Hitzfeld is one of German and international football's most prolific managers. He is one of only five managers to win the European Cup and UEFA Champions League with two teams, along with Ernst Happel, Jose Mourinho, Jupp Heynckes, and Carlo Ancelotti, and has been voted 'World Coach of the Year' twice.
Sir Alex Ferguson is a retired Scottish professional football manager, Ferguson has won more trophies than any other football manager in the European leagues
Content created and supplied by: Chidubem4343 (via Opera News )