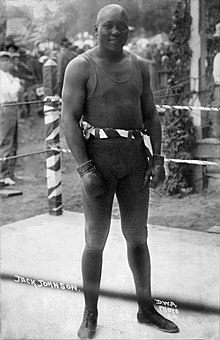 Jack Johnson (Born 
June 10, 1946), nicknamed 
the "Galveston Giant", was an American boxer who, at the height of the Jim Crow era, became the first African American world heavyweight boxing champion (1908–1915). Widely regarded as one of the most influential boxers of all time, one of the period's most dominant champions, and as a boxing legend, his 1910 fight against James J. Jeffries was dubbed the "fight of the century". According to filmmaker Ken Burns, "for more than thirteen years, Jack Johnson was the most famous and the most notorious African-American on Earth".[[Transcending boxing, he became part of the culture and history of racism in the United States.
Jack Johnson

In 1912, Johnson opened a successful and luxurious "black and tan" (desegregated) restaurant and nightclub, which in part was run by his wife, a white woman. Major newspapers of the time soon claimed that Johnson was attacked by the government only after he became famous as a black man married to a white woman, and was linked to other white women.Johnson was arrested on charges of violating the Mann Act—forbidding one to transport a woman across state lines for "immoral purposes"—a racially motivated charge that embroiled him in controversy for his relationships, including marriages, with white womenSentenced to a year in prison, Johnson fled the country and fought boxing matches abroad for seven years until 1920 when he served his sentence at the federal penitentiary at Leavenworth.

Johnson continued taking paying fights for many years, and operated several other businesses, including lucrative endorsement deals. Johnson died in a car crash on June 10, 1946, at the age of 68. He is buried at Graceland Cemetery in Chicago. On May 24, 2018, Johnson was formally pardoned by former U.S. President Donald Trump. Johnson was the third child of nine born to Henry and Tina Johnson, former slaves who worked service jobs as a janitor and a dishwasher. His father had served as a civilian teamster of the Union's 38th Colored Infantry. He was described by his son as the "most perfect physical specimen that he had ever seen", although Henry had been left with an atrophied right leg from his service in the war.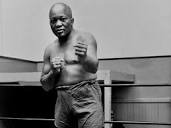 Growing up in Galveston, Texas, Johnson attended five years of school. As a young man, Johnson was frail, though, like all of his siblings, he was expected to work.
Although Johnson grew up in the South, he said that segregation was not an issue in the somewhat secluded city of Galveston, as everyone living in the 12th Ward was poor and went through the same struggles Johnson remembers growing up with a "gang" of white boys, in which he never felt victimized or excluded. Remembering his childhood, Johnson said: "As I grew up, the white boys were my friends and my pals. I ate with them, played with them and slept at their homes. Their mothers gave me cookies, and I ate at their tables. No one ever taught me that white men were superior to me."
After Johnson quit school, he began a job working at the local docks. He made several other attempts at working other jobs around town until one day he made his way to Dallas, finding work at the race track exercising horses. Jack stuck with this job until he found a new apprenticeship with a carriage painter by the name of Walter Lewis. Lewis enjoyed watching friends spar, and Johnson began to learn how to box. Johnson later declared that it was thanks to Lewis that he became a boxer.
At 16, Johnson moved to New York City and found living arrangements with Barbados Joe Walcott, a welterweight fighter from the West Indies Johnson again found work exercising horses for the local stable, until he was fired for exhausting a horse. On his return to Galveston, he was hired as a janitor at a gym owned by German-born heavyweight fighter Herman Bernau. Johnson eventually put away enough money to buy boxing gloves, sparring every chance he got
At one point,[when?] Johnson was arrested for brawling with a man named Davie Pearson, a "grown and toughened" man who accused Johnson of turning him in to the police over a game of craps. When both of them were released from jail, they met at the docks, and Johnson beat Pearson before a large crowd. Johnson then fought in a summer boxing league against a man named John "Must Have It" Lee. Because prize fighting was illegal in Texas, the fight was broken up and moved to the beach, where Johnson won his first fight and a prize of one dollar and fifty cents.
Johnson made his debut as a professional boxer on November 1, 1898, in Galveston, when he knocked out Charley Brooks in the second round of a 15-round bout for what was billed as "The Texas State Middleweight Title". In his third pro fight on May 8, 1899, he faced "Klondike" (John W. Haynes, or Haines), an African American heavyweight known as "The Black Hercules", in Chicago. Klondike (so called as he was considered a rarity, like the gold in the Klondike), who had declared himself the "Black Heavyweight Champ", won on a technical knockout (TKO) in the fifth round of a scheduled six-rounder. The two fighters met twice again in 1900, with the first rematch resulting in a draw, as both fighters were on their feet at the end of 20 rounds. Johnson won the third fight by a TKO when Klondike refused to come out for the 14th round. Johnson did not cl
On February 25, 1901, Johnson fought Joe Choynski in Galveston. Choynski, a popular and experienced heavyweight, knocked out Johnson in the third round. Prizefighting was illegal in Texas at the time and they were both arrested. Bail was set at $5,000 which neither could afford. The sheriff permitted both fighters to go home at night so long as they agreed to spar in the jail cell. Large crowds gathered to watch the sessions. After 23 days in jail, their bail was reduced to an affordable level and a grand jury refused to indict either man. Johnson later stated that he learned his boxing skills during that jail time. The two would remain friends
Johnson attested that his success in boxing came from the coaching he received from Choynski.The aging Choynski saw natural talent and determination in Johnson and taught him the nuances of defense, stating "A man who can move like you should never have to take a punch
Johnson beat former black heavyweight champion Frank Childs on October 21, 1902. Childs had twice won the black heavyweight title and continued to claim that he was the true black champion despite having lost his title in a bout with George Byers and then, after retaking the title from Byers, losing it again to Denver Ed Martin. He also claimed the unrecognized black heavyweight title as well.[citation needed] Johnson won by a TKO in the 12th round of the scheduled 20-rounder, when Childs's seconds signaled he could not go on, claiming a dislocated elbow. The defeat by Johnson forever ended Childs's pretensions to the black heavyweight crown.[citation needed]
World coloredWorld heavyweight champion
Johnson's efforts to win the world heavyweight title were initially thwarted, as at the time world heavyweight champion James J. Jeffries refused to face him, and retired instead. However, Johnson did fight former champion Bob Fitzsimmons in July 1907, and knocked him out in two rounds.[5]
Johnson finally won the world heavyweight title on December 26, 1908, a full six years after lightweight champion Joe Gans became the first African American boxing champion. Johnson's victory over the reigning world champion, Canadian Tommy Burns, at the Sydney Stadium in Australia, came after following Burns around the world for two years and taunting him in the press for a match.Burns agreed to fight Johnson only after promoters guaranteed him $30,000. The fight lasted fourteen rounds before being stopped by the police in front of over 20,000 spectators, and Johnson was named the winner.
Share and follow this handle for interesting stories.
Content created and supplied by: Frednj (via Opera News )