The players with most goal involvements have been rated and Cristiano Ronaldo is currently ranked 6th While Lionel Messi I currently ranked 7th. These two legends have always been on the race to set a wonderful record each season. However, having known that Cristiano Ronaldo and Lionel Messi are the current leading players with most goals in Serie and La Liga. These two players are also able to make it to the top 10 table of players with most goals involvements so far this season. However, let's quickly take a look at the top 10 table.
The top players is currently Robert Lewandowski, He have a record of 34 goals and assist and a season rating of 7.92. The second player is Lukaku, The Inter Milan Striker has a record of 26 goals and assist with a season rating of 7.63. The 3rd players is Harry Kane, The Tottenham Hotspur Striker has a record of 24 goals and assist. Kane also made an awesome season rating which is 7.72 above Lukaku.
However, the player with highest season rate is Lionel Messi, even though he's currently ranked 7th player with most goal involvements in Europe's Top 5 Leagues. He had a total record of 23 goals and assist with a season rating of 8.48.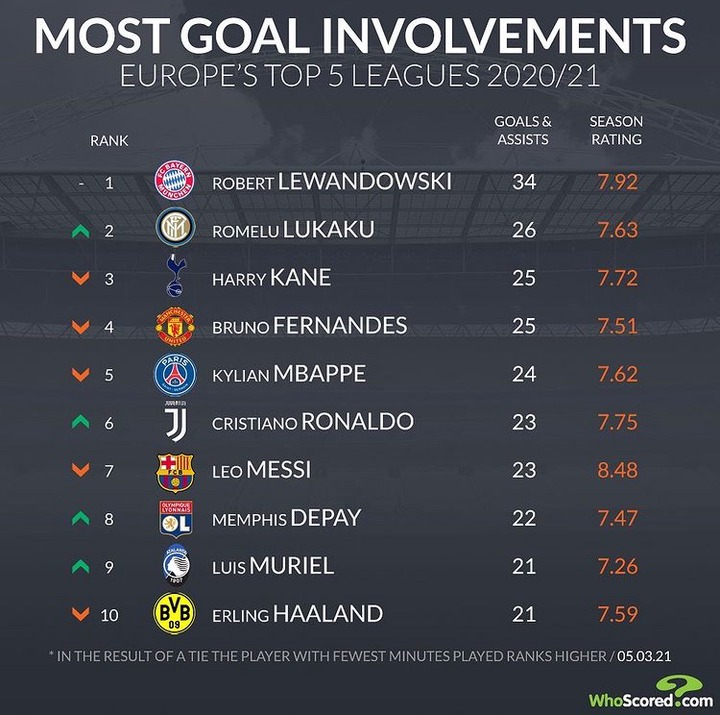 Content created and supplied by: FunNaija (via Opera News )