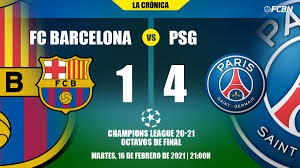 After a 4-1 defeat Barcelona has an uphill task when they face Paris Saint-Germain on Wednesday. To qualify they will need to win by a difference of four goals, with the easiest route being to score 4 goals without reply at the Parc des Princes. Difficult right? Even Michael Owen does not see that happening even though Barca did it successfully at this same stage of the competition in 2017.
4-0 down after first leg back in 2017, almost everyone ruled out Barca. But somehow they managed to overturn that scoreline by winning 6-1 in the second leg, with Brazilian winger, Neymar, the hero for the Blaugrana.
Exactly 4 years later, Barca has found themselves in almost the same situation, with the major differences being that the second leg will not be played at Barca's famous Camp Nou and Neymar the hero for Barca four years ago now plays for PSG. Apart from that, Luis Suarez who was also part of Barca's attack that night left the club last summer for Atletico Madrid where he is now doing well.
With all these factors in mind, Michael Owen has predicted that Messi alone cannot do it, in fact he sees PSG taking advantage of the space that Barca will likely leave at the back as they go in search of goals and has predicted PSG to win again.
Predicting PSG to win 2-1 in the second leg he said: "It looks like Barcelona's European campaign is all but over. A 4-1 thumping on home soil may have been a shock to some, but this Barca side has been on the wane for some time.
"Again, like a couple of ties on the night, they'll need to go for it at some stage, and when they do I think that's when they could be opened up.
"There aren't many teams better on the counter than PSG, so I'll be siding with the Parisians to make it back-to-back wins against the Catalans."
Do you see what happened between Barca and PSG in 2017 happening all over again? Tell us what you think.
Content created and supplied by: TesscoNews (via Opera News )