In this article we will be looking forward to see players Most Games Played For Barcelona in La Liga History.
Well Barcelona have great line of loyal player who even go to the length to signed life contract with them, let see the list .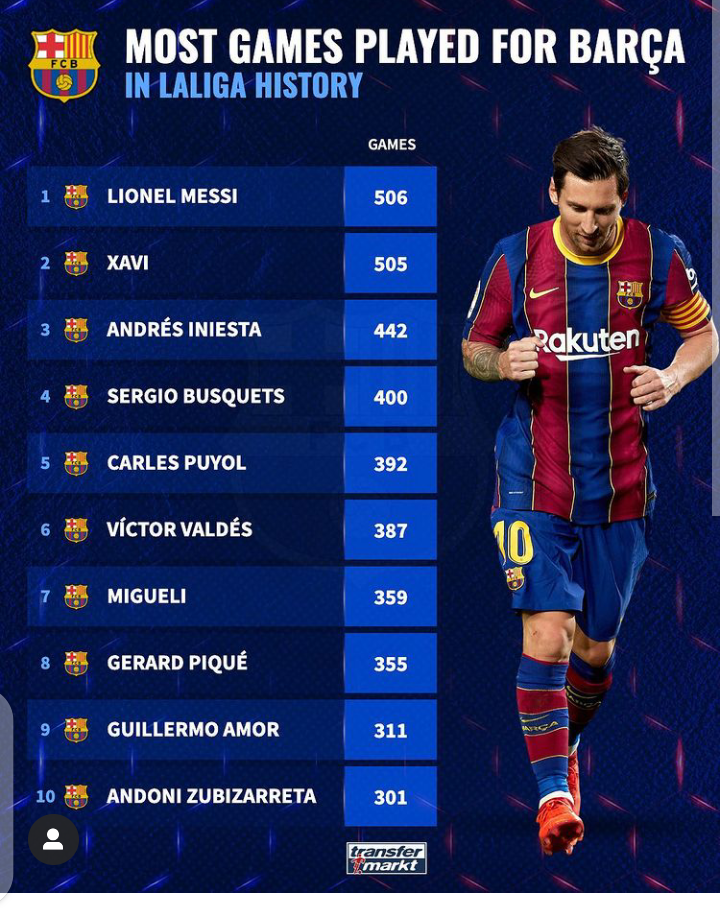 The Argentina wizard is the first name in the list as he has played a whooping 506 game for Barcelona, he has only players for them and he is looking forward to be staying for a much longer time, Xavi is also another loyal player as he has played 505 games for them, then Andre Iniesta is third on the list as he has played 442 games.
Then some loyal players within their ranks includes Sergio Busquet he has played 400 games for them, then Carlos Puyol is next as he played a total of 392 games for them. Then another player with more cap for them are Victor's Valdes he featured for them a whooping 387 times and Migueli has featured 359.
Tgen other players that make up the list include Gerrad Pique with 355 games for them, Amor with 311 games and finally Zubizarreta with 301 games
How do you see these loyal players
Content created and supplied by: Cynthiablogs (via Opera News )