Here's my funny but true strory:
It is no longer news that Last Month, Man City went to Stamford Bridge and turned it to their training ground.
What most of you don't know is that they almost beat the hell out of me that day. 
Because, hoodlums will always act like hoodlums.
Before Man City scored the first goal, there was a boy beside me that was making a hell of a noise. 
He kept raving about how Chelsea would beat Man City black and blue.
But, by the 21st minute, Chelsea were 2:0 down.
I celebrated each goal like I had won the lottery. 
I jumped up and lifted my hands and stomped my feet. I screamed till my voice cracked.
Chelsea fans were in pain. And there's nothing that gives me more joy than the pain of Chelsea fans.
I love drinking their tears. I love bathing with it. I love seeing the red eyes and drooped heads that come when they lose. 
I love seeing them humbled, their shoulders dropping a few inches lower. 
It gives me real joy.
By the time Man City scored their third goal, my voice was the loudest in the hall. 
I was there, taunting and dragging and adding insults to the injuries of the losers, when this boy told me to keep quiet, that I was disturbing him.
Although I'm not the football type, I just started going to the viewing centre.
At first, I didn't know he was referring to me. Until he said it the second time.
"Ahh… Are you insane? Are you Okay? Am I your mate?"
"What's happening there?" Joshua, one of my guys, asked.
Joshua and I had formed a kind of friendship based on our love for Man United, hatred for Chelsea and the short distance between our homes.
"it is this small boy o. He said I should keep quiet." I replied Joshua, still surprised at the boy's audacity.
"What? And you did not slap him?"
"You can come and give me the slap instead now. Or is something wrong with your hands?" The boy replied.
"Are you talking to me in that manner?"
"Yes. Deal with it! And do your worst..."
They continued their back and forth, until the first half ended.
As people left the hall, Joshua walked over to my seat and delivered a thunderous slap to the boy's face.
"Am I in anyway your mate?"
"Ah! You slapped me?" The boy squeaked, "How dare you slapped me? You will definitely pay for this."
"What can you do than to receive more beating? Do whatever you want and watch your end." Joshua replied, giving the boy one more slap again.
I stood up and held Joshua, to prevent further slaps. 
The boy left the place, holding his cheek.
"Guy, it's not up to that now, you know all this small boys attitudes now." I told Joshua.
"He's mad. Didn't you see how disrespectful he was?"
"Don't mind the stupid boy. His brother is the reason behind all his misbehaviour." One guy, who had been watching the whole thing unfold, joined in the conversation.
"Who is his brother?" I asked.
"All these cult boys that are busy disturbing area anyhow now. His brother is the leader in their area."
I looked at Joshua. He didn't appear to be fazed.
"Their father, who cares?" He replied. "Let them come. They will learn how to behave publicly"
Second half started and people trooped back into the hall. 
But the boy didn't return. Neither did Joshua. 
I didn't pay any heed to their absence.
Until the 75th minute. 
When I saw the guys, about nine of them, outside the hall. 
Nine boys, including the boy that was slapped.
They stood by the door, and stared. At me. Ah! 
Pointedly. The match reached the 80th minute. Still these guys remained. Silent. Still. Staring at me.
I was spooked.
I picked my phone and sent Joshua a DM. 
The guy was online.
Me: Guy, where are you?
Joshua: At home. Someone called me.
Me: And you left me here?
Joshua: What's wrong?
Me: Don't ask me stupid questions. Do you know any bike man?
Joshua: Yes.
Me: Good! Tell him to come to that viewing centre. So, as soon as I see him. Then we move immediately.
Joshua: Guy o! What's happening now?
Me: You are asking me? That boy you beat is here with some guys. They are outside and looking at me like they want to use me to do suya.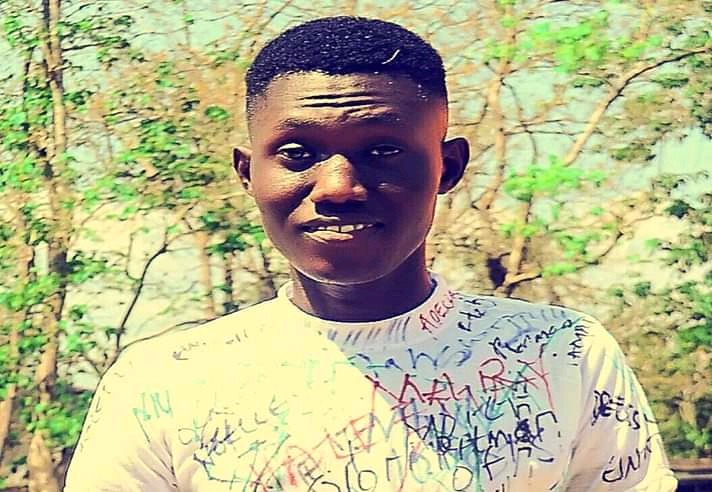 (This is me)
Joshua didn't reply again. 
Sweat gathered on my brow.
Just then, Chelsea scored a consolation goal. 
Some fans stood up and began to leave.
I took advantage of the confusion and moved to the next row.
It was darker there.
The boy and one the guys came into the hall, and began to scan faces.
The referee blew the final whistle.
I mixed with the crowd till I got outside. 
Then I ran like I was Usain Bolt. Lol
Comedy article
"We live to fight for another day"
Like and Share Please
Content created and supplied by: DejiFayemi (via Opera News )