In this article we will be looking forward to see most man of the match award since 2009/19 season.
Let see which players that make up the list.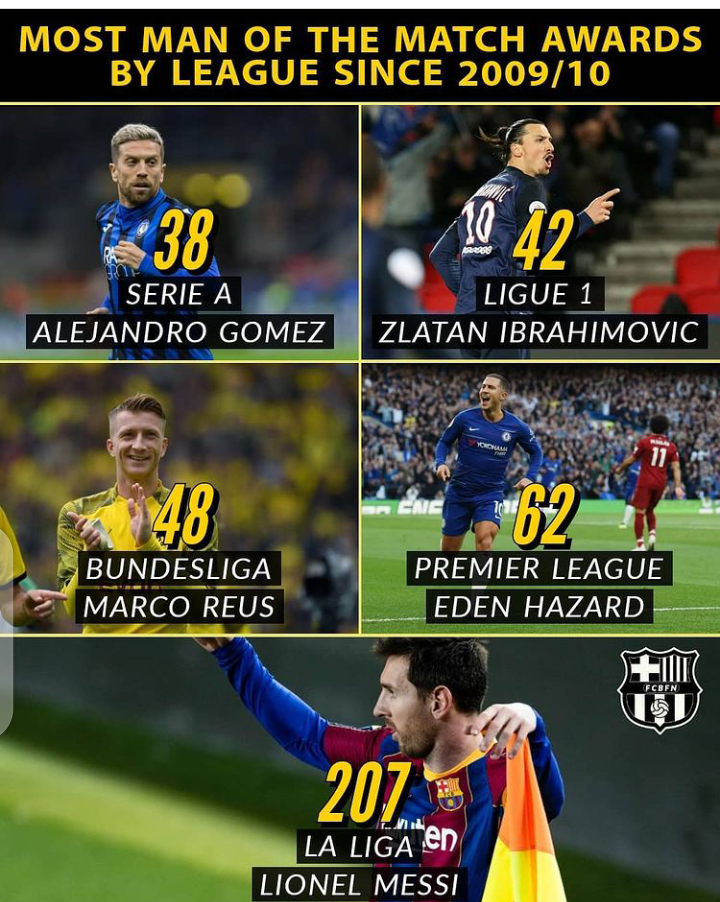 Italian league; The players that has most of the match award for this league is Alejandro Gomez, the inter Milian player had scoop the award more than 38 times in his career while playing for Inter Milian.
Ligue 1; in this particular league Zlatan Ibrahimovic is the player that holds this records, The swedish player is a talent to behold and with what he has achieved in the football world he can be Argued to be one of the greatest of All Time, he has won the award 42 times.
Bundesliga; the players that have scoo the award in this particular league is Marco Reus, He has won this prestigious award 48 times playing for Bourssia Dortmund.
Premier League; The player that have won this Award more is The Belgium play maker Eden Hazard, he had won it 62 times in his history of Existence.
La liga: It is only player that conquered this league being Lionel Messi and he has won it a whooping 207 times in his Football History while playing for Barcelona.
How do you rate this players.
Content created and supplied by: Faahionworld (via Opera News )