After 18 months at the helms of affairs at Stamford Bridge, Chelsea all-time highest Goalscorer Frank Lampard was shown the door after a run of poor results.
Before Chelsea's form in the Premier league took a dive, the club had recorded a commendable 17 games unbeaten run which span across securing a early qualification to knockout rounds of the Champions league.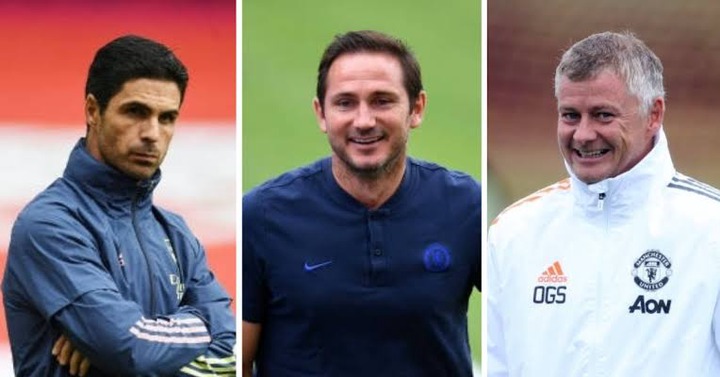 It's a plausible assumption that Frank Lampard was a victim of his own success. The England international took the old Chelsea squad all the way to the Final of FA cup last season. Expectation were high as the second season began especially after Chelsea signed new Players to reinforce the squad in order to Challenge the likes of Liverpool and Manchester City for the English premier league title.
Halfway through the season, it was becoming more apparent that the league was slipping out of Chelsea reach. The inability of Lampard to get the best out the German duo Kai Havertz and Timo Werner further compounded his woes. The next best thing was that someone else take his job.
When news broke that Lampard has been sacked, there were clamours from some quarters, particularly his colleagues who opined that his retrenchment was premature. They sighted the cases of Mikel Arteta and Ole Gunnar Solskjaer who both did not started very well at Arsenal and Manchester United respectively but were able to turn that story around for the better.
Manchester United have gone from aiming for top four finish to contending for the league title. This was only possible because Ole Gunnar Solskjaer was given time.
The comparison of win percentage of Frank Lampard to Arteta and Solskjaer is another reason why Chelsea should have patient with him.
Lampard had better win percentage than Ole Gunnar Solskjaer and Mikel Arteta in the premier league but still he was the one that got fired.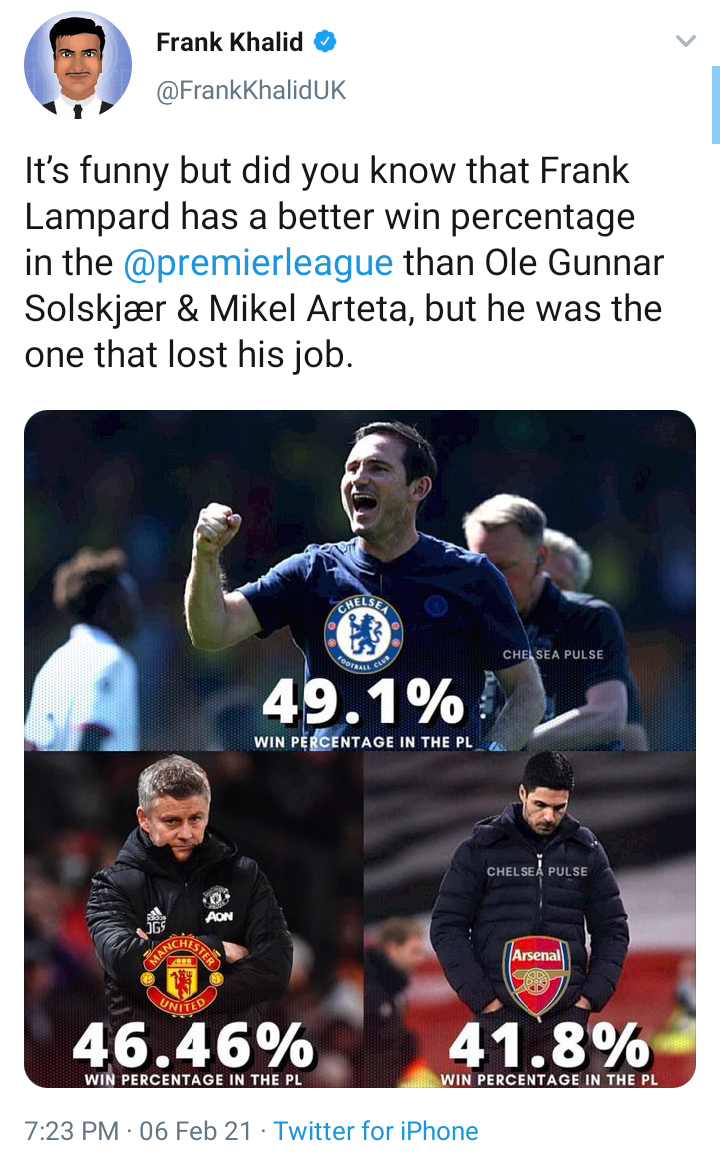 Maybe if was managing Arsenal or Manchester United, Frank Lampard might still have his job but it's Chelsea, the bar is always high and the task is very clear - get good results or lose your job.
Share your thoughts and opinions by commenting. Don't forget to like and share. Follow for more updates.
Content created and supplied by: AminullahiMuritala (via Opera News )