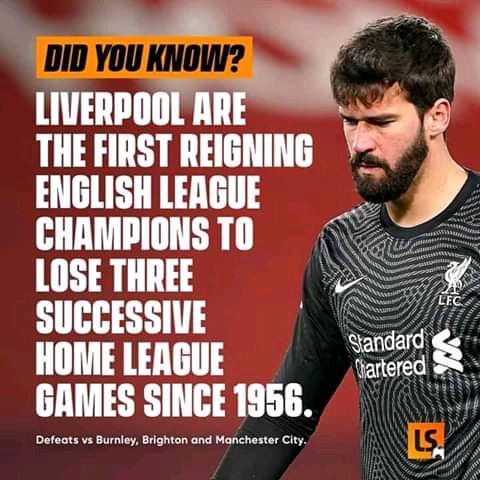 Liverpool football club is the reigning English premier league champions. They became the champions when they won the league title last season. Liverpool won the title with many matches still remaining to be played. Therefore they set a record. They also set a record by going through three years of club football without losing in their home stadium popularly called Anfield.
In 2018-2-19 season, they also set a record by producing two players(Salah and Mane) to win the golden boot with Aubameyang of Arsenal as the divisions top scorers.
They also kicked off from where they stopped last season by defeating about 7 clubs in a row with losing. But things now began to go wrong when most of their players started getting injured.
Firstly, the lost to Burnley football club at anfield for the first time in three years in premier league, Brighton also won them at anfield few weeks later.
Yesterday been Sunday 7th of February they suffered another heavy defeat at anfield in the hands of Manchester City.
The defeat makes them the only reigning English premier league champions to loose three consecutive home matches since 1956.
With the defeat, all title hopes for Liverpool may be all over as they sit 4th in the tables 10 points behind leaders Manchester city.
What do you think, are they going to rise and win the league title. Share your opinion and follow for more football records.
Content created and supplied by: Victoriz (via Opera News )