The best team in the English premier league by an absolute mile, the champions elite; and rightfully so, because they have been phenomenal. Pep Guardiola deserves a lot of credit for the way Manchester City is doing things right now. Their winning run is just phenomenal, unbeaten run are special but there is always a couple of draws in there. A winning run just shows how consistent you are and it's staggering because at the start of the season Manchester City was finding things a little difficult and there were a lot of question marks about pep Guardiola, whether he lost his mojo. but the way he turned things around and the way they're playing right now is just an absolute credit to him and what he's doing as a manager. and they're losing players during this period likes Kevin de Bruyne, Aguero and whoever comes in, just slot in, his effortless and that's testament to the manager and the management team and also the players because it's staggering.
Arsenal on other hand is not consistent. 
''Arsenal have to be different if they want to win this game or even get something out from it, so as some people suggested if that's it or record at the Emirates against Manchester City is horrendous, we always seem to get slack whenever we played on'' 
But there is something that can give arsenal fans hope of getting something out of the game.
 Looking at Pep Guardiola's best winning runs as a manager; He had a 12-game winning run at Bayern Munich and it was ended by Arsenal. he had a 13-game winning run and it was also ended by Arsenal.
 he now has this Man city unbeaten run and he is playing against Arsenal. So, what do you think?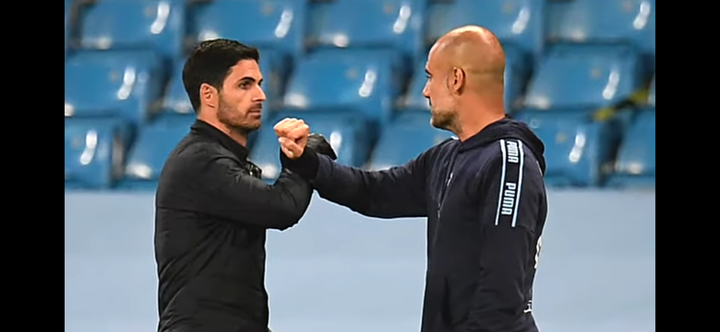 Content created and supplied by: Bonakiss (via Opera News )