The Indomitable Lions of Cameroon was a thorn in the flesh of our darling Super Eagles not beating the Eagles three times to win the nation's cup. The most painful of the three was the defeat in our backyard. The match was one of the greatest comebacks of the senior national team but a penalty kick denied Nigeria that golden opportunity. 
The Nigeria national women's team, nicknamed the Super Falcons, have long paid Cameroonians back in their coins thus enacting the revenge of those losses.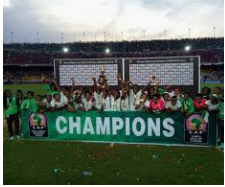 Just as the Indomitable Lions have beaten Super Eagles three times in AFCON finals to win a trophy, the Falcons have also beaten the Lioness of Cameroon four times. 
In what makes it a perfect payback, the Super Falcons of Nigeria have also beaten the Lioness of Cameroon in their backyard leaving them to weep like the ways Nigerians wept in the National Stadium in the year 2000.
The Falcons are eleven-time winners of the women African cup of nations. Of the eleven, the Lioness lost on four occasions to them. The first loss was in 1991 which was the first time the competition was held. In 2004, the Falcons handed a heavy defeat again to the Lioness of Cameroon in South Africa. 2016 was also a bad one again For the Lioness as the Falcons beat them at 2:0. 
The last one was in their backyard, then it ended in a one-goal thriller in favour of the Falcons. In all the matches, the Lioness did not see the back of the net of the "Avengers" who have made soccer-loving Nigerians oroud on many occasions.
Content created and supplied by: Nwanna (via Opera News )