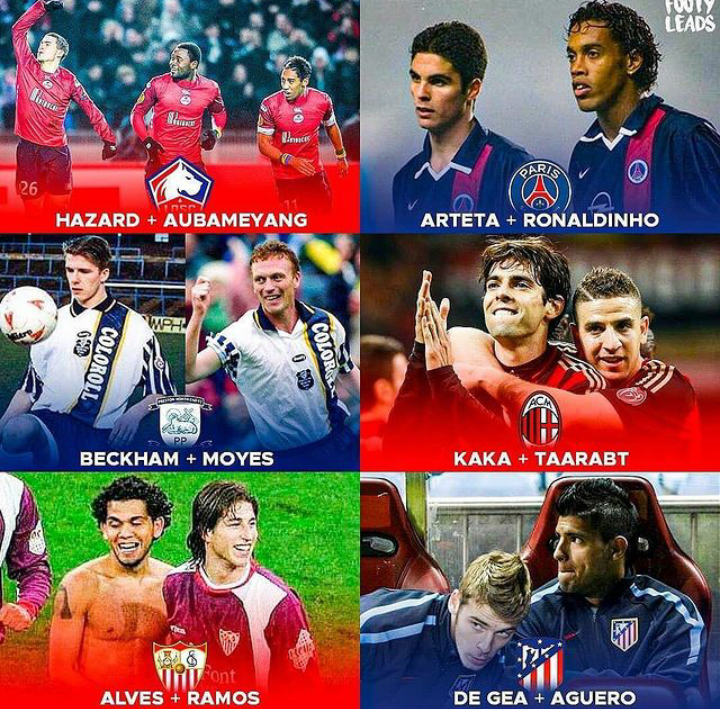 Hazard and Aubameyang:
Eden Hazard and Pierre Emerick Aubameyang played together at Lille back in 2009. Aubameyang was loaned from Ac Milan to Lille in 2009 were he met with Hazard in the Ligue 1.
Arteta and Ronaldinho:
Mikel Arteta and Ronaldinho played together at Paris Saint Germain in 2001. The Spaniard international joined on loan from Barcelona who later signed Ronaldinho.
Beckham and Moyes:
David Beckham and David Moyes played together at Preston. Beckham was on loan from Manchester United during the 1994/1995 season.
Kaka and Taarabt:
Brazil international Ricardo Kaka and Morocaan international Adel Taarabt both played together in 2014 for Ac Milan
Alves and Ramos:
Dani Alves and Sergio Ramos both played together at Sevilla in 2004/05 were Sevilla finished 6th in the La Liga table.
De Gea and Aguero:
David De Gea and Sergio Ramos both featured for Atletico Madrid from 2009-2011 before becoming rivals playing for Manchester United and Manchester City.
Content created and supplied by: Sportified (via Opera News )