The table shows the top five clubs in the Premier league, LA Liga, Bundsliga and Serie A. These clubs has really done well for them selves this season.
Most clubs we're not expected to be leading this season at all especially in premier league and LA Liga league.
A lot of turn around happened in premier league. Currently in premier league, the Liverpool who were the defending champion last season are not in any way close to the first third and they had great set back this season because they do lose to smaller clubs. The Manchester City are topping in the league table with 47 points, followed by the second place Manchester United with 44 points and the Leicester city with 42 points, Liverpool eith40 points and the fifth place West Ham with 38 points.
From the LA Liga table, the Atletico Madrid are leading in the LA Liga table with 50 pouts, the second place Barcelona are in 40 points, real Madrid the defending champions are I 40 points, Sevilla are in 38 points occupying the fourth place.
Bundsliga shows the first to be the defending champion Bayer Munich with 45 points and likely, they will WI the title because of the gap difference. The Leipzig are occupying the Second place with 38 pouts while theBayern Leverkusen are occupying the fifth position with 32 points.
The Serie A table shows that The AC Milan are in the first position, Inter Milan second, Roma this and the Almighty Juventus Fourth position. Napoli fifth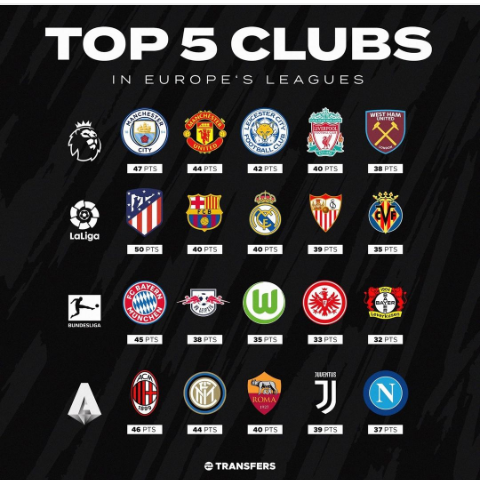 Do you think that all these clubs occupying the first place will win the league title this season?


Content created and supplied by: Emelastepen (via Opera News )