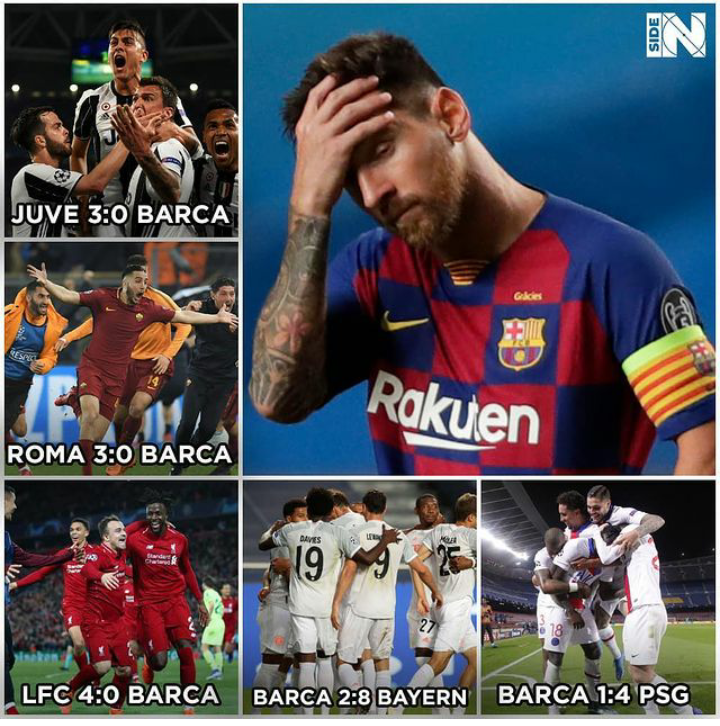 Here are Barcelona's greatest Uefa Champions league defeat since the departure of Pep Guardiola in 2012.
Juventus 3:0 Barcelona
The Catalans lost 3-0 to Juventus in the Uefa champions league quater-finals in 2017. Paulo Dybala scored a brace as Giorgio Chiellini was also on the scoresheet.
Roma 3:0 Barcelona
Barcelona also lost to Roma in the 2nd leg of the Uefa quater-final. Edin Dzeko, De Rossi and Manolas were on the scoresheet for the Italian side.
Liverpool 4:0 Barcelona:
The Catalans lost 4:0 to Liverpool in the 2nd leg of the champions league semifinal after winning 3-0 in the 1st leg at Camp Nou. Divock Origi and Wijnaldum both scored a brace.
Barcelona 2:8 Bayern
The Catalans were trashed 8-2 in the quater-final of the Uefa champions league at Camp Nou in 2018. Thomas Muller and Phillipe Coutinho scored a brace as Ivan Perisic, Serge Gnabry, Joshua Kimmich and Robert Lewandoski were also on the scoresheet whie David Alaba (Og) and Luiz Suarez scored for Barcelona.
Barca 1:4 Paris Saint Germain
The Catalans were defeated at the Camp Nou 1:4 by Paris Saint Germain in the champions last 16 tie. Kylian Mbappe scored a hat trick as Moise Kean was also on the scoresheet while Lionel Messi scored for Barcelona.
Content created and supplied by: Sportified (via Opera News )