What Really happen?
I was challenged by my dear friend, Crown David, to write about the "Demented thing(s) I do beyond Facebook" and I have accepted his challenge. His word "Demented" is still something I am struggling to unravel. But in the meantime, I shall dabble into the narrative about how I became "a writer" (something I never knew I was until a friend called me so). The way it started was "Demented", too. 2010 it was, and I would sit for my JAMB exam the following year. I was attending an extramural class and it was about time for the English lessons. We had hardly begun the class when this heavy downpour stormed out and muffled our hearings; we, the JAMB candidates. The dark clouds obscured our sights, the cold making us to shiver, and the lecture being delivered could barely continue.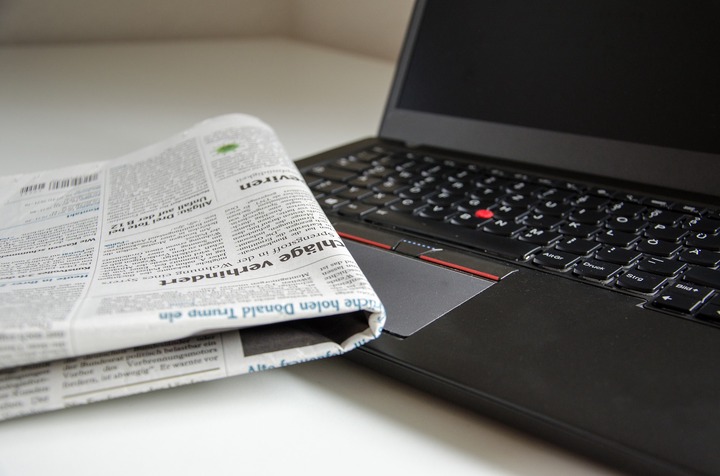 Perplexed about the way to go, the teacher, a mass communication graduate at the time, opted for the option that we write an essay on Nigeria's impending election. Then, by 2011, it would be the country's voting period, as we may recall. Those who had books tore from them, and those who didn't, were lent some leaves. I got a leaf or two instantly and I started writing. Others also joined in the race. We would have numbered beyond fifty if my memory has not failed me. And at about ten minutes into the exercise, colleagues have started submitting. Most people were actually discouraged about the "game" right from the outset, as their gloomy countenance buttressed as much. Some were as enthusiastic as I was about the ordeal, but only for them to get in the middle of nowhere, and be short of ideas.
In that meantime, I was still writing. Minutes passing were like seconds. Fifteen minutes gone, and few of us were still not done. I wasn't seeing those of us left as the best, by the way. For me, I felt I was only keeping late to adequately brave up to a task I was enjoying and hopeful of being the best at it. Meanwhile, the teacher, who doubled as the supervisor, was in the front row collecting the scripts of those he called "lazy writers". I had later come to know that most people wrote a half page, some others, nothing; just their name and a blank page. It was to this realization that the teacher jested that he would keep the names and scripts of the "bad writers" and bring them into good view when these people finally have grandchildren.
I submitted lastly. The man read the caption out loudly to the audibility of the class. "2011 Elections: Proposing a Free, Fair and Credible Voting" or perhaps, "Towards an impending Election: Fairness and Credibility". I can't remember how exactly how that had gone but of course, the caption bore a semblance with one of those items. I was shocked to hear him announce he was reading the "best write-up" and was more than enthralled with the caption it had. I never knew he was reading as people submitted all at those those moments he jested and mocked.
The man was the first person to make me understand I write "differently". He was going to read the script out, boisterously, to the class until the grimace worn by somefriends who had equally laboured through the strive jolted his intentions. I was quite shy, bowing my head as every unfamiliar class member struggled to catch a glimpse of one "celebrity" skinny lad.
Fast-forward to 2011, my friend, Moh'd Shittu Hebraheem, created this account on my behalf. Moments of WAEC and JAMB had come and passed and my brother and I were quite some idle admission seekers. For my friend though, he was a trainee at a computer training center. When he called to say he created a Facebook account for us duo, my brother and I, I was quick to ask him how much it costed. (Osama, these are the "crazy" things you asked for; hope you are noting them?). "Ha! Haba. Kò já'm pin" my friend announced with confidence. What he implied by the way, for Non-Yoruba speakers, is that such endeavours would come at no cost. I asked him about how Facebook works, what to post and what not to. "You would just say your thoughts or post some quotes" he intimately hinted.
So, for awhile, I joined Facebook posting the wise quotes of Abraham Lincoln and other sage philosophers. I thought that this was the way. Meanwhile, I could easily access the posts of the "friends" and "friends of friends" that Shittu had secured for me. And after I saw most people write in shorthand so crazily as, for an instance, "Ao ws ur day 2dae?", I was quick into resolving that it would be "criminal" after all, to write words in full on Facebook. For awhile, I was struggling to be like them, so i would write a full-word piece and later transform it into a "short-handed" script.
Well, another trend I saw with friends but never fell for was how they stretch out out names into some stringed but needless distortions. If you bear Ibrahim Usman for a name, for an instance, you could make that into "Hebraheem Hoosmern"; apologies to my friend. I learnt some still use that. Crazy. I thought it defeats the sense in Facebook, as it becomes difficult for friends to locate you.
To cap it up on my journey into writing, I would say Facebook has really been helpful. From 2014, I may say, till date, my thoughts about life have sputtered on this platform. I began to engage fully with people here in 2012 but my writings had become full-fledged circa 2014. Facebook has really been helpful in that it allows for freelancing and connection with like minds. The "freelancing" aspect is not only helpful for a depressed mind to share his worries or an elated individual to share his joy, but it is also very useful for self-development. I think most people have confessed to it and countlessly, that they can't just grapple with the thoughts that they were the authors of some blundered scripts and essays from their pasts. Unluckily for them and us, though, Facebook bring these "scripts" into sight more oftenly than not, through "Your Memories Today". When it displays "I we c u by nxt tomao"—a post one authored under no duress, eons ago— one is quick to bury this fast and protect such from Facebook new "friends" (read: acquaintances).
A budding writer still, I shall take pause awhile now from speaking about the "troubles" I might have sailed through while being a pen-pusher. Many friends still don't believe I write, till date, as my personality outside of here may not have "enshrined" it. Writing is quite as interesting as it is tedious, but the zeal to put across your thoughts, to share a new information to the world (or some friends and assuring audience), is what would get you moving. There may be a part two of this write-up on a request.
If there would be no sequel coming up yet, and with your kind permission to ride on with this subject of writing, I should be quick to identify Mahfouz Adedimeji PhD, as one great influence on my writing story. I didn't meet this man in any classroom. In fact, I doubt if I have ever met him in person to have a keen tête-à-tête. I firstly met him on the pages of the year 1 GNS Textbook of the University of Ilorin where I schooled. The two profound chapters he authored in that book and that had graced my sight in the winters/rain semester of 2012/2013, did a marvelous job for me and had pushed me into discovering myself and my writing skill. You know, a young man confronted every moment with the zeal to put down his thoughts, I was most usually perturbed by the fact that I was a different person. I was already thinking of dampening the fire of inspiration to write when the words of Benjamin Franklin (and also Francis Bacon)—one I only came to know through Mahfouz— picked me up:
"If you don't want to be forgotten,
"As soon as you are dead and rotten,
"It's either you write something worth reading
"Or you live a life worthy of writing."
The Don has a unique way of captivating your attention in his scripts, and bringing his major lessons up for recallment by his use of "self-contrived" acronyms (now, I can't recollect what that is called). Those ones helped, too. He thought me that a writer becomes a writer only through writing, in much the same way a seamstress knows how to sew only by sewing; or that a trader learns the art of business only by trading. What is particularly spectacular about Prof is that if you have never met him, you would be twice as astonished about his eloquence in speeches as you were about his scripts. So, Prof mentored me—from a distant.
Next to Prof or maybe, before him—in the order of the people who have influenced my writing habit—is Author Dele Ashade. I think virtually every "writer" in my generation would reckon with this arbiter of language(s). It would be impossible for anyone to write in any language at all without a good mastery of same. Dele Ashade demystified all the challenges that would be for an average Nigerian English enthusiast in his books, "A-One in English", "A-Z of Jamb's Use of English" and "The Invisible Teacher". Every bit of those was adequately engulfed by me at relevant times. If not because Mr Ashade already calls himself "invisible", one day, I would only have gone to pull him out from anywhere he might be around the world for just an everlasting hug.
Content created and supplied by: Universerjobs (via Opera News )
Opera News is a free to use platform and the views and opinions expressed herein are solely those of the author and do not represent, reflect or express the views of Opera News. Any/all written content and images displayed are provided by the blogger/author, appear herein as submitted by the blogger/author and are unedited by Opera News. Opera News does not consent to nor does it condone the posting of any content that violates the rights (including the copyrights) of any third party, nor content that may malign, inter alia, any religion, ethnic group, organization, gender, company, or individual. Opera News furthermore does not condone the use of our platform for the purposes encouraging/endorsing hate speech, violation of human rights and/or utterances of a defamatory nature. If the content contained herein violates any of your rights, including those of copyright, and/or violates any the above mentioned factors, you are requested to immediately notify us using via the following email address operanews-external(at)opera.com and/or report the article using the available reporting functionality built into our Platform See More