This is The World Most Incredible Pool. It Cost ₦1.6Trillion. See Stunning Pictures
At 650ft high, home to the world's longest elevated infinity pool.
Located across from the financial district, the MBS seems to complement the rest of the Singaporean skyline. On the one side you can see the skyscrapers rising from the financial district and on the other Singapore's most beautiful building. However, what makes the complex even more special is its 140-meter infinity pool situated right on top of the connecting platform: A swimming pool with a view that only the rich and famous can afford and that has been featured in movies, music videos and Instagram posts of popstars and football players.
The five-star resort is not only Singapore's largest and most popular hotel, but it's also the most Instagrammed hotel in the world, according to data released by Instagram this week.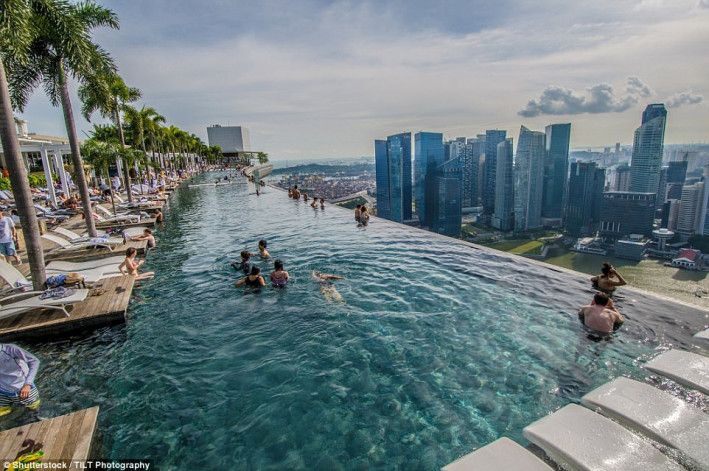 It's located 656 feet in the air at 492 feet long - That's the length of nearly three Olympic size pools and in case I forgot to mention that also makes it the worlds largest rooftop infinity edge pool. As if that wasn't enough, the pool also spans across three, 57 story skyscrapers which makes it one of the most incredible swimming pool engineering feats you've ever seen. In fact, Marina Bay Sands is arguably one of the world's most challenging construction projects and certainly the most expensive stand-alone integrated resort property ever built. The SkyPark is a triumph of modern engineering and there's literally nothing else like it anywhere on the planet. It's so impressive its been featured by National Geographic, the Discovery Channel's "Build It Bigger," Business Insider and even on the movie set of Crazy Rich Asian!
Over one million guests each year stay at the hotel, which hands out an average of 36,000 room keys a month for its 2,561 hotel rooms.
Tourists flock to the £3.5billion destination to enjoy its decadent casino, world class museum, restaurants, shops and concerts.
The staff alone at the venue consume an enormous 826kg of rice, 1,200kg of protein and meat and 1,499kg of vegetables a day, the equivalent to the weight of a female Asian elephant.
One of the two movies theatres
Casino
Bedroom.
Shopping mall.
Canal system at mall in Marina Bay Sands hotel, Singapore.
Skating inside Marina Bay Sands hotel, Singapore.
Content created and supplied by: Gowizi (via Opera News )