The rate of unemployment keeps increasing and the jobs that are created by governments are not enough to absorb the huge number of unemployed people.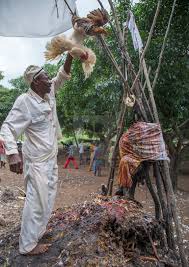 This, however, forces some people to engage in illegal activities such as fraud and armed robbery to make some money. Others also end up in money rituals to become rich.
The issue of making a lot of money and becoming rich is fast arising in Ghana, there is also a trend on social media about people going for money rituals in Benin.
Benin is well-known for practicing voodoo and money rituals, this is a story of a young man who went to Benin to become wealthy.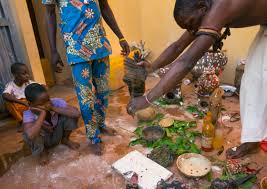 The Benin Journey
 Barefoot, I stepped onto a putrefying mound of candle wax, palm oil and the feathers and blood of sacrificed goats and chickens. I was ready to converse with the spirit god Dankoli. In a shady woodland glade before the charred tree-stump fetish, adorned with jawbones, I hammered a wooden peg into the gooey shrine.
 After beseeching the god to grant my wish, I sealed our deal by anointing the shrine with blood-red palm oil and spitting out three mouthfuls of fiery homemade gin.
"If your wish comes true," reminded Pascal, the Voodoo attendant, "you must return to sacrifice two chickens to Dankoli."
I won't reveal what I wished for. Anyhow this was not my real inspiration for visiting Benin, a peaceful democratic West African minnow squeezed between Nigeria and Togo. My true motivation was The Viceroy of Ouidah, a lyrical novella by Bruce Chatwin. Written nearly 30 years ago, it tells of Dom Francisco de Silva, a 19th-century Brazilian migrant who became Benin's most notorious slave trader.
Nearby, the hefty wooden doors of a curious-looking building shaped like an enormous haystack – the lodge of the god Zangbeto – were closed too.
Members of this secretive cult patrol Beninese streets after dark like unofficial police, dressing in haystack costumes and sporting sticks to beat unruly citizens. I walked around late every evening hoping to witness them, but I never did.
And then fate eventually smiled upon me. I met an English-speaking teacher called Yvette who took me to see a local Fa reader.
In a cupboard-sized room, crammed with potions, the medium Casmin Fabiyi fingered his Fa beads (threads of eight wooden disks) like a rosary.
"The power of Mawa-Lissa (Voodoo's Supreme Being) sent Fa to earth as a medium to answer questions about the future," Yvette told me, also describing how the medium casts his beads into one of 256 positions that he then interprets as the word of his god.
Later that afternoon, Yvette and I travelled by zemidjan (motorbike-taxi) to Manikpe Tolapata temple, ten minutes outside Porto Novo. With Yvette's help and a cash donation I was finally able to attend an otherwise closed ceremony.
When Mami Wata's Voodoosis (followers) filed in, predominately women in white robes, I was very excited. But, as my guidebook informed, Mami Wata is the mermaid-like goddess of water who 'offers happiness and fortune to those with courage to meet her at the seaside'. And despite my Hammer House of Horror expectations, not a drop of sacrificial blood was spilled, nor did any eye-bulging zombies grace the affair. 
Instead, the main altar (bereft of human skulls) was a dribbling accumulation of wax and oil that reminded me of a cheesy table-decoration in an Italian restaurant. Still, it was an enjoyable, melodious, almost gospel affair. A harmonious female choir sang beautifully and gyrated before the head priest who sat with an ivory cane beneath an inflatable Santa Claus.
The priest later explained, ignoring my question about sticking pins into effigies of your enemies (shame, I'd prepared a list!). However, my next destination, Chatwin's occult capital Ouidah, promised something a little more noire.
Remi, a local guide, showed me the marketplace where slavers bartered 15 male Africans for one cannon. At The Tree of Forgetfulness, Remi explained how "slaves would circle nine times to magically forget everything, so they weren't sad in their new lives."
On a high, I headed north to Abomey the next day. After two days in a taxi with a driver called Filbert, the coastal plain subsided to a rippling landscape of green bush and ochre roads, studded by granite hills. Hornbills glided across the road with greater ease than the struggling taxis-brousse (bush taxis) bearing chassis-bending loads of people and cargo bound for Cotonou. We passed coachloads of white-robed Christian's fresh from celebrating the apparition of the Virgin Mary at Dassa-Zoume. The syncretism of Beninese religious life ensured some would be worshipping animist deities later that day.
I entered the now modest Abomey palace of King Benhanzin II, kowtowing at his feet so my forehead brushed the ground. His Dahomian lineage was restored in 1995 after Marxist government rule ended and although his powers are limited these days, he's a charming man.
Seated in a padded armchair, wearing a blue skullcap, white tunic and chequered sarong, his majesty recounted his royal predecessors back to 1620 and in the spirit of entente cordiale we discussed subjects as diverse as the Channel Tunnel and Concorde's demise.
 I asked him if he worshipped Voodoo? "Of course," he responded. "This is our divinity before Catholicism came along and our way to make our lives better." As he told me about Voodoo's living dead we consumed Johnny Walker whisky. Kowtowing proved a little harder on the way out.
After communing directly with the powerful Dankoli fetish, a further half-day's drive north at Savalou, Filbert and I returned south for my last day in Benin. Filbert knew of an important Voodoo ceremony occurring in Cotonou.
"The priests pray for bad spirits to fly away," said a neighbouring man, before a shriek rippled the now feverish crowd. Somebody had seen an evil vision, so a semi-naked Voodoosi came over, cast sanctified water over us and urged the sacrifice of a chicken to atone.
Once again I was being swept along by a society offering a magical snapshot of life and beliefs before European Christianity arrived. Benin is bathed in simplistic beauty yet possesses a thrilling, mystical underbelly. I'd fallen completely under her spell.
Content created and supplied by: Akinpelusakiru94 (via Opera News )
Opera News is a free to use platform and the views and opinions expressed herein are solely those of the author and do not represent, reflect or express the views of Opera News. Any/all written content and images displayed are provided by the blogger/author, appear herein as submitted by the blogger/author and are unedited by Opera News. Opera News does not consent to nor does it condone the posting of any content that violates the rights (including the copyrights) of any third party, nor content that may malign, inter alia, any religion, ethnic group, organization, gender, company, or individual. Opera News furthermore does not condone the use of our platform for the purposes encouraging/endorsing hate speech, violation of human rights and/or utterances of a defamatory nature. If the content contained herein violates any of your rights, including those of copyright, and/or violates any the above mentioned factors, you are requested to immediately notify us using via the following email address operanews-external(at)opera.com and/or report the article using the available reporting functionality built into our Platform See More