20. Netherlands — 19 Million Visitors
Tourism continues to be a big trend for the Dutch, with many of the travelers coming from surrounding nations (80 percent), followed next by the Americas and then Asia.
When people think of the Netherlands, they often think of Amsterdam, home to historic canals, museums both impressive and quirky, and a thriving nightlife scene. But the Netherland Board of tourism and conventions want visitors to discover it is so much more than its capital.
"We take people from Amsterdam elsewhere," Henk Philip, a partner with Tours & Tickets, has said of visiting the country. "But what we really want is for people to not even go to Amsterdam, but visit other tourist attractions in the Netherlands."
19. Poland — 19.6 Million Visitors
Travelers seeking European panache without the crowds of stalwarts like Spain, France, Germany, and of increasingly turning to Poland, thanks to its illustrious history (including a rich Jewish heritage), collection collective castles, untouched nature and delightful cuisine (if you haven't tried pierogis, you haven't lived life).
Oh, and it's Central-Eastern Europe's home to the most UNESCO World Heritage sites — 15 cultural and one natural.
The Polish Tourism Agency notes that 85 percent of visitors surveyed during their exit from the country would recommend and return to it. 
18. Canada — 21.1 Million Visitors
Canada's tourism industry is so immense, it accounted for $33.9 Billion of the country's GDP in the first nine months of 2018 alone. Most visitors come from the neighboring U.S., followed by China and the UK, which only recently got edged out of its long-held No. 2 position. 
Of visitors to the 3.8-million-square-mile country, two-third arrive via Ontario, home to the Canadian side of Niagara Falls, and the thriving, progressive metropolis of Toronto. Vancouver, Calgary, and Montreal are also big cities that get lots of love, as do resort towns like Banff, located at the foot of spectacular Banff National Park.
More adventurous travelers seek out the country's wide-open nature in places like Churchill, where polar bears and beluga whales reside; Newfoundland, home to staggering fjords, icebergs, and glaciers; and the Okanagan Valley, Canada's answer to Napa with rolling vineyards and superb wine to spare.
17. Portugal — 22.8 Million Visitors
Portugal's location in Southern and Mediterranean Europe has contributed to it becoming a leader in European tourism growth. (Other countries growing swiftly include Spain, Italy, Greece, Turkey, and Croatia.)
That growth is no accident. In 2017, the country launched a 10-year tourism plan aiming to double tourism revenue by 2027, and so far, it's working. Many tourists are finding their way to Portugal's unspoiled beaches, history-steeped castles, and Lisbon, the country's sophisticated urban hub. And it's safer than many other European nations to boot. 
16. Russia — 24.5 Million Visitors
Many forces have converged to make Russia increasingly popular among tourists.
For one thing, Central and Eastern Europe witnessed an overall 5-percent increase in tourism last year.
Plus, after the country hosted the 2018 FIFA World Cup, the Russian Federation experienced double-digit growth in tourist spending and a 10% boost in visitors.
Finally, the country saw an influx of Chinese tourists following a change in Visa procedures. (As of July 2019, an additional 53 nations can use a new e-visa online program, ensuring still more growth in the coming months.)
Where to begin in this country spanning an extraordinary 6.6 million square miles? Moscow and St. Petersburg area of course excellent places to start, though you'd also be wise to explore overlooked gems like the ancient town of Suzdal. A ride on the storied Trans-Siberian Railway is a must as well. 
15. Malaysia — 25.8 Million Visitors
Four Southeast Asian countries are featured on the list of the top 15 most-visited destinations of 2018. Malaysia is gaining in popularity thanks to its natural charms (rainforests, national parks, and wildlife abound) and desirable tropical temps, which range from 68 to 86 degrees all year round.
Of visitors to Malaysia, the majority.come from Asia. Vision 2020, the country's tourism plan, aims to see 30 million travelers by the decade's end.
14. Hong Kong — 29.2 Million Visitors
Recent protests and political upheaval are warding visitors away from Hong Kong, but it remains one of the most visited places on the planet, largely due to its popularity among business travelers. The opening of the Hong Kong-Zhuhai-Macao Bridge to connect the Greater Bay has also boosted Hong Kong's tourism industry by making automobile arrival an option for Asian travelers.
Whether visiting for travel or business, most tourists make their way to Hong Kong's wealth of shopping malls and highly rated restaurants. 
13. Greece — 30.1 Million Visitors
With its rich ancient history, Greece remains a hotspot for tourists, growing by 2 million visitors annually for the past 3 years. In fact, one in five Greeks works in the tourism industry, even following the country's economic crisis. 
Some, though, fear that Greece is joining the ranks of over-touristed areas, especially its small islands. The mayor of Santorini, for instance, is limiting the number of cruise passengers disembarking on the island to 8,000 people per day.
12. Austria — 30.8 Million Visitors
Austria may be the 12th-most-visited country in the world, but it's No.1 when it comes to per-capita tourism in Europe.
Many thinks of Austria's Alps, which explains why hiking in the summer and skiing in the winter are the two top vacations for visitors (enjoyed by 41 and 53 percent of visitors, respectively). Many others spend their time mountain-biking and exploring alpine lakes. 
But while the Alps are spectacular, there's so much more to see here. Austria's tourism campaign touts its nine diverse regions to explore. 
11. Japan — 31.1 Million Visitors
The third-most-visited Asian destination on this list received more than 30 million visitors last year. And these numbers are expected to increase as the country hosts the 2019 Rugby World Cup and the 2020 Summer Olympics.
The tourism board's goal is to hit 40 million international visitors by 2020, which should be easy to accomplish. In addition to hosting the world's largest games, Japan entices visitors with its first-rate cuisine (Tokyo has more Michelin stars than any other city on Earth), ancient shrines, a rich sense of tradition, and unique natural features like snow-capped Mount Fiji. 
Outside of Asia, Americans and Australians are the nation's biggest admirers.
10. United Kingdom — 36.3 Million Visitors
Made up of four countries (England, Wales, Scotland and Northern Ireland) that all speak English, the UK has long been a beloved destination among international travelers. Though it slipped slightly between 2017 and 2018, moving from No. 7 to No. 10 on the most-visited-countries list, Visit estimates a rebound this year, with tourism growing another 6 percent.
More than half of those who arrive in the UK head to London, famous for its seamless blend of history and modern urbanity (not to mention its exemplary, scot-free museums). 
Wales is the least visited of the countries — just 2 percents of travelers make it here.
9. Thailand — 38.2 Million Visitors
Thailand makes up the largest portion of Southeast Asia's travels. The country welcomed nearly 3 million more tourists in 2018 than in 2017 and witnessed $6 billion in spending!
Renowned for being budget-friendly due to its exchange rate (1 USD = 30 THB), the nation is transforming into a luxury getaway with more resorts and high-end offerings pushing out the backpacking and disreputable businesses of Bangkok.
8. Germany — 38.8 Million Visitors
Germany's visitor count has been steadily climbing for nine consecutive years. In 2017 and 2018, Germany even ranked 1st in the world on the Nation Brands Index for its popularity. 
The country is most beloved among other Europeans, particularly the Dutch. Travelers from the United States are the largest market from overseas.
Both Europeans and Americans rave about the country's thought-provoking historic attractions, spirited cities, vast forests (they cover one-third of the nation), and — most importantly — excellent beer.  
7. Mexico — 41.4 Million Visitors
Mexico broke its tourism record in 2018 and took in more than $20.3 billion doing so. Travelers to the country spent, on average, nearly $500 while visiting, most of whom came from the United States and Canada. UK residents served as Mexico's most prolific overseas tourists.
Postcard-perfect beaches remain a major draw here, but the country's tourism board has also successfully highlighted its ancient history, cultural institutions, diverse cuisine, and natural features beyond the shoreline, including butterfly sanctuaries, canyons, and waterfalls. 
6. Turkey — 45.7 Million Visitors
In 2016, tourism in Turkey dipped 30 percent, a slump attributed to political troubles and terrorist attacks. But travelers started returning in 2017, and in 2018, the number of visitors jumped nearly 22 percent.
Istanbul saw a record number of visitors last year, luring travelers to explore its East-meets-West cultural attractions, colorful bazaars, and imposing mosques. 
But it's the coastal city of Antalya in the south that's really been surging. More than 12.4 million visited this Mediterranean area last year, and the Culture and Tourism Ministry is estimating 2019 will break the 50-million-visitors mark.
5. Italy — 62.1 Million Visitors
Tourism is so big in Italy that long lines at places like St. Paul's Cathedral and the Colosseum in Rome are all but guaranteed, even if you've booked reservations in advance. Statistics show Italy's tourism growth is above the European average, with Rome attracting nearly 27 Million of its visitors.
Europeans travel to Italy the most: Germans account for 14 percent of visitors, with French and UK visitors making up 3 percent each. Americans are the biggest overseas market, also at 3 percent.
Outside the throngs of Rome, Italy also boasts the rolling vineyards of Tuscany, the artistic pedigree of Florence, the natural wonders of the Amalfi Coast, and the canals of Venice among its embarrassment of riches. 
4. China — 62.9 Million Visitors
Not only does China receive more visitors than most of the world, but its own inhabitants account for 10 percent of all world travelers. It is expected that 20 percent of the Chinese population — 300 million people — will have passports by 2027. Chinese tourists also spend more than any other country, nearly doubling that of No. 2 — a whopping $277 billion!
Those outside China who make their way to the country discover everything that comes with being the world's oldest continuous civilization, from villages dating back thousands of years to ancient marvels like the Great Wall. Plus, the nation's cuisine, as affordable as it is flavorful, can't be beaten. 
3. United States — 79.6 Million Visitors
Considering the United States is 3.8 million square miles, nearly as big as all of Europe, it's easy to see why it's the third-most-popular travel destination on Earth.
The country's mix of wildly diverse attractions doesn't hurt either, including some of the most iconic cities in the world (New York City, LA, Chicago) and a thriving national-park system.
2. Spain — 82.7 Million Visitors
Many news outlets are reporting on the extreme over-tourism found in Barcelona, which hit a record 8 million visitors in 2018. But that represents just a tenth of the travelers who visit this expansive country that also includes the cultural hub of Madrid and the flamenco capital of Seville, as well as untouched countryside and gorgeous beaches.
The nation's largest tourist groups come from Germany and Britain, though people from these countries are increasingly heading to Turkey and Greece instead. In their place, Americans are filling the empty beds, with nearly 3 million people coming from the U.S. last year — an 11.8% growth.
Unfortunately, the influx of people has locals on edge, and the Spanish are considered to be developing "tourist phobia," especially in Barcelona and the Catalan states.
1. France — 89.4 Million Visitors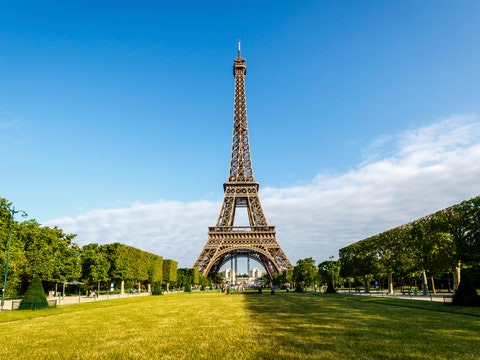 More people are visiting France than any other country in the world, and the country has a 100-million-visitors target for 2020. Think they'll hit it? We do, too, especially considering it hosted the FIFA Women's World Cup earlier this year.
Not only does France receive the largest number of tourists, but they make the most off of them too. Tourism brought in $62 Billion last year!
Get your visit in while you can. Tourism is only going to rise, especially when France hosts the 2024 Summer Olympics in Paris.
Content created and supplied by: Ajisafe_2 (via Opera News )
Opera News is a free to use platform and the views and opinions expressed herein are solely those of the author and do not represent, reflect or express the views of Opera News. Any/all written content and images displayed are provided by the blogger/author, appear herein as submitted by the blogger/author and are unedited by Opera News. Opera News does not consent to nor does it condone the posting of any content that violates the rights (including the copyrights) of any third party, nor content that may malign, inter alia, any religion, ethnic group, organization, gender, company, or individual. Opera News furthermore does not condone the use of our platform for the purposes encouraging/endorsing hate speech, violation of human rights and/or utterances of a defamatory nature. If the content contained herein violates any of your rights, including those of copyright, and/or violates any the above mentioned factors, you are requested to immediately notify us using via the following email address operanews-external(at)opera.com and/or report the article using the available reporting functionality built into our Platform See More