welcome back.Before you read this informative article, please check my #changingfacesvideochallenge by opera news and like it. Click my profile. Mama Laide will never carry last😂🙈🏋️ Thank you for liking it🙂
Statues are good because it reminds us of history. Some statues are made in honorarium to distinctive people,while others are for beauty aesthetics. Nevertheless,There are many monuments and statues all over the world,but there are some that are phenomenal and wierd.These statues below are wierd and at the same time phenomenal.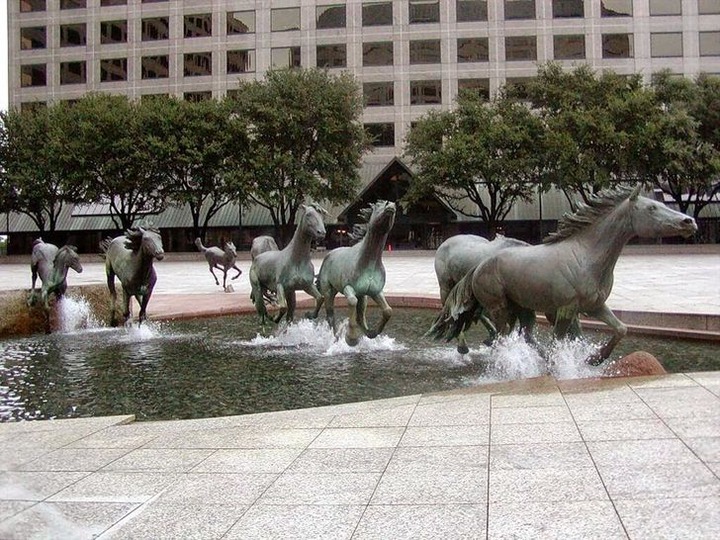 This statue is unique. It is made of bronze and far larger than a life horse,even though it appears small in Pictures. The water you see beneath them come from their feet.The fountains of water was built into their feet to to make it seem like that hey are galloping through the water. This statue is indeed refreshing.
2) searching a woman's handbag, Italy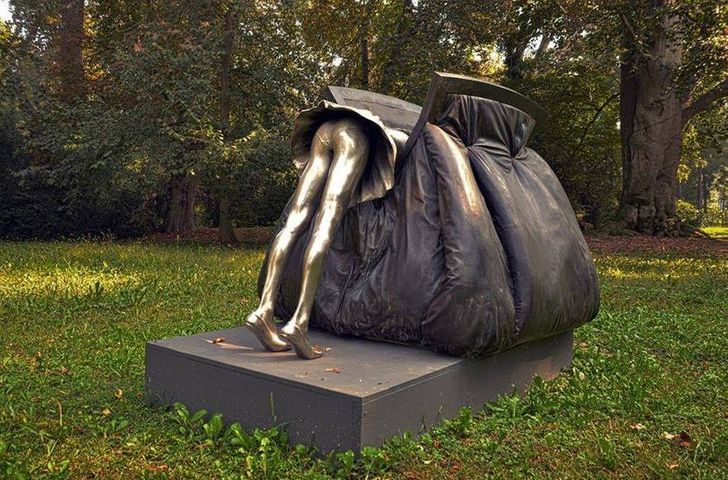 This sculpture was presented in an exhibition in Italy.Isnt it funny that a woman's hand bag can be this large🙂 what are the containments therein?
3) Dying Lion of Lucerne, Switzerland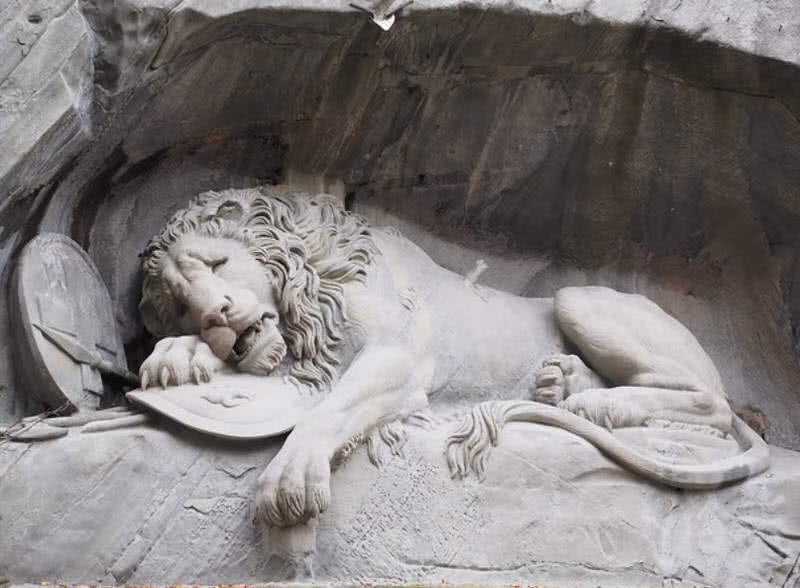 This dying lion statue was sculpted by Bertel Thorvasden a Danish sculptor, from 1818 to 1821.It was sculpted as a tribute and remembrance of the loyalty and bravery of the soldiers who died in the French revolution of 1792.It is 6 meters in height,and 10 meters in length.It is found in Switzerland,the city of lurcene. It is a reminder of history.Its view is so touching.


4) Apennine Colossus, Italy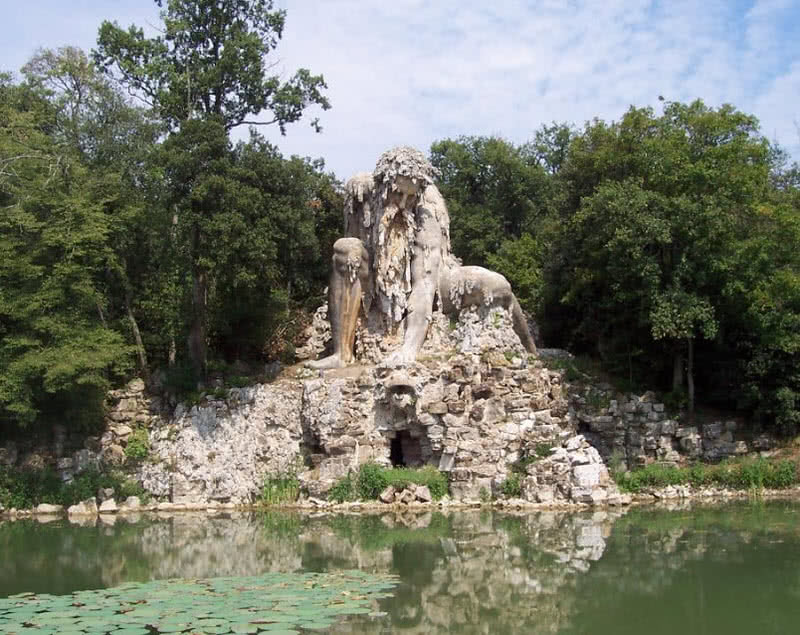 This statue is epic. It almost looks like it can come alive at anytime. Wierd isnt it?It is found in Florida Italy. It was sculpted at the banks of a pond. Do you know that there is a passage way through the statue that leads to another tourist site called fountain of garden. This statue is 35feet high and was sculpted in the year 1518 by Giambologna an Italian sculpture. I recommend you to visit Demidoff garden in Florida, Italy ,it will be mind blowing.
5) Knotted gun , New York, USA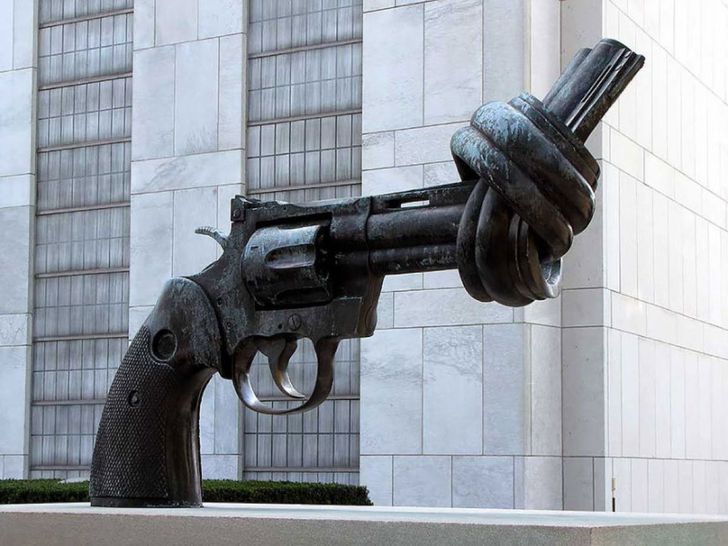 This sculpture was created in memory of John Lennon a member of the Beatles group. He was murdered by a dissapointed over zealous fan.Carl Fredrik Reuterswärd sculpted this piece as a revolt to gun laws ownership and stoppage of violence in 1980.
6) The Travellers, Marseilles, France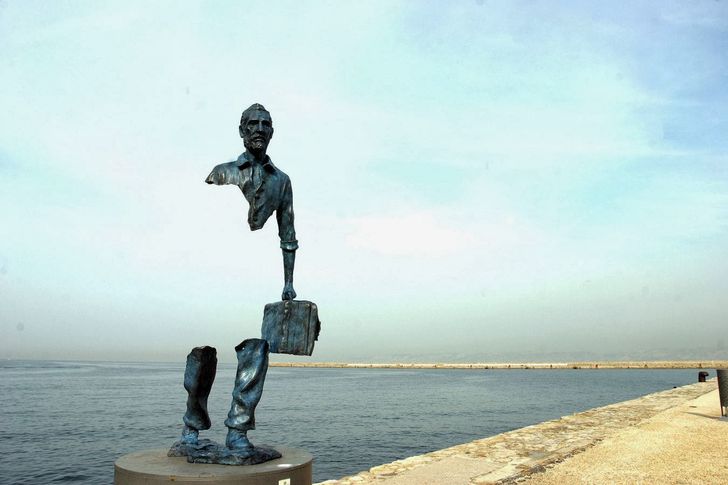 This statue is Wierd and whoever sculpted it is very creative.
7) The Unknown Bureaucrat, Reykjavik, Iceland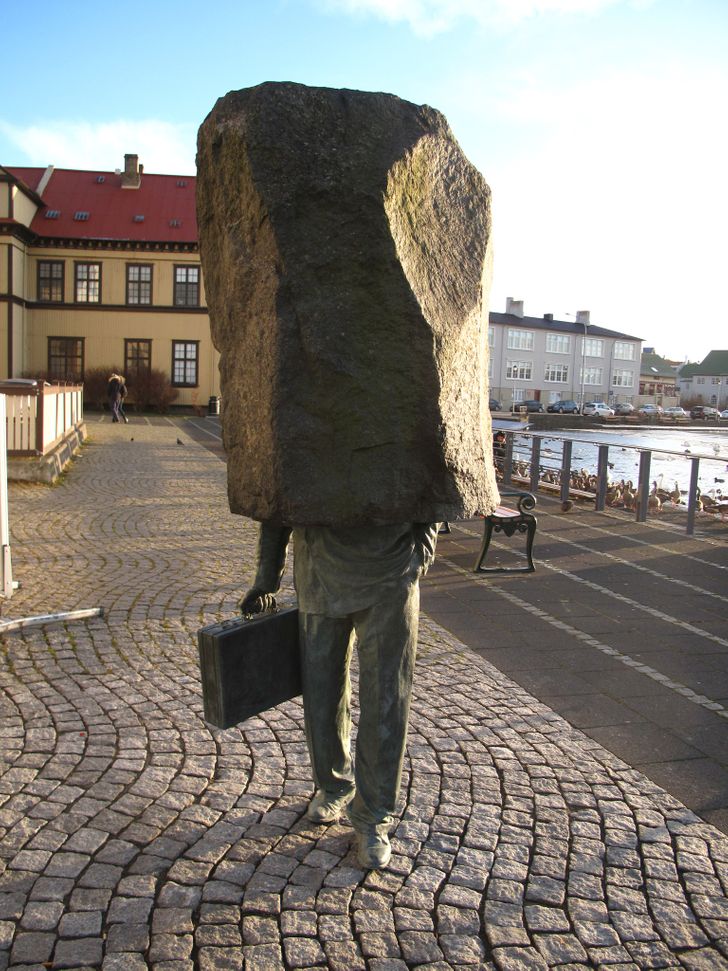 Wow, this statute was sculpted in Iceland,in the city of Reykjavik .It was sculpted in 1994 bymagnus Tomasson an Iceland sculptor.when looking at the statue it may look wierd,but to the Icelanders it represents a symbol and may seem funny to them


8) Leshan Giant Buddha, China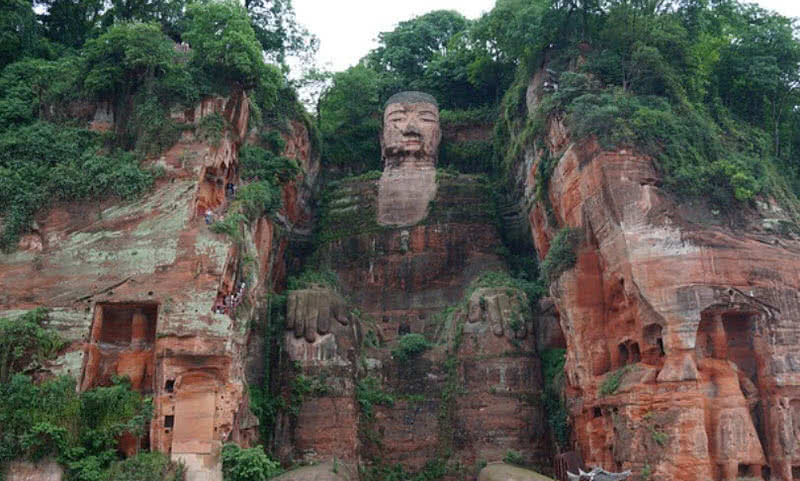 This stone Buddha is the largest in the world.Isnt it gigantic? Well, it is found in Leshan, China. It is 233 foot tall. It was sculpted in the 8th century, in the cliff side of Xijuo peak. The statue faces mountain Emei. MountainEmei is one of holiest sites of Buddhism in China.There is a local adage which says ' Mountain is a Buddha and Buddha is a mountain' .The people believed that Buddha calmed the river which flowed in close proximity to the sculpture.wait,did you notice the carvings beside the statue,are those the guards or servants ,hmmm ...isnt that Wierd?
9) Headington Shark, Oxford, Britain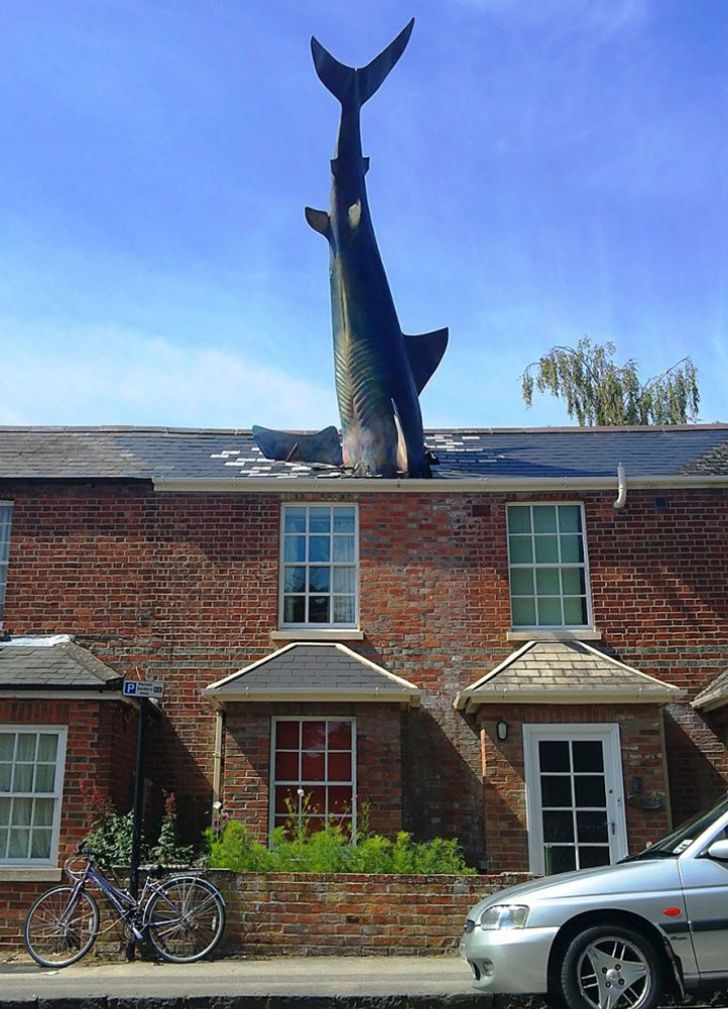 This statue may seem Wierd,but it has a smbolism. It was sculpted as a reminder of the nuclear attack of Nagasaki Japan by the United states .It shows a nuclear bomb falling from above. What a sad remembrance.
10)De Vaartkapoen, Brussels, Belgium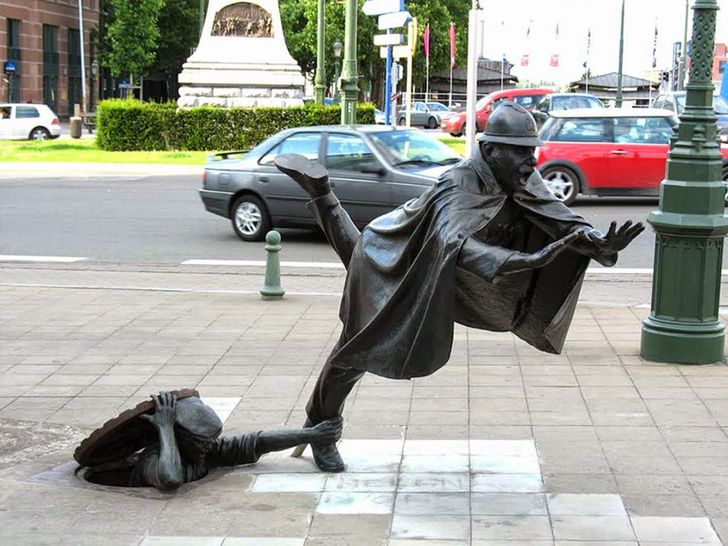 This statue was sculpted by Tom Frantzen,in the year 1985, in Molenbeek area of Brussels. It depicts a man who emerges from a manhole and drags the of a policeman. Its purpose was to create humour.
11) Nelson Mandela, South Africa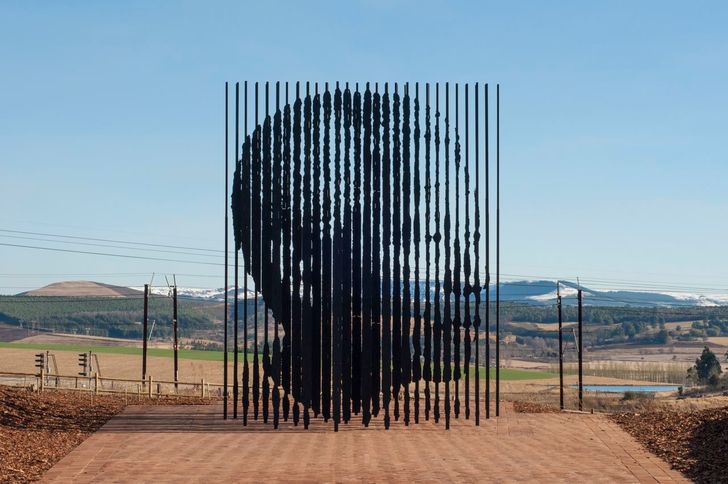 This Nelson Mandela's image is made from 50 steel columns and it represents the 50 years since his arrest and political persecution. You can see his image if you stand at an angle to the poles, otherwise, they seem to be just a bunch of steel poles.
12)Force of Nature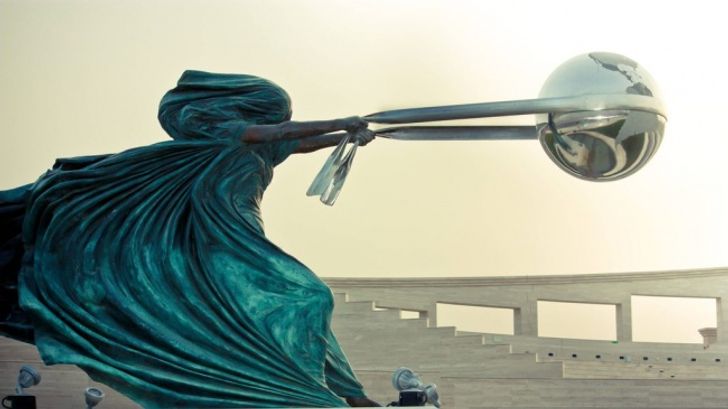 This is a sculpture created by Italian artist Lorenzo Quinn.it was created in different parts.women are sculpted holding the Earth in a length of cloth. This statues have been laid in many cities around the world, like Monaco ,in Singapore,United States and United kingdom. It symbolised that women hold the earth.What do you think?
13) The Wedding Rings, Vancouver, Canada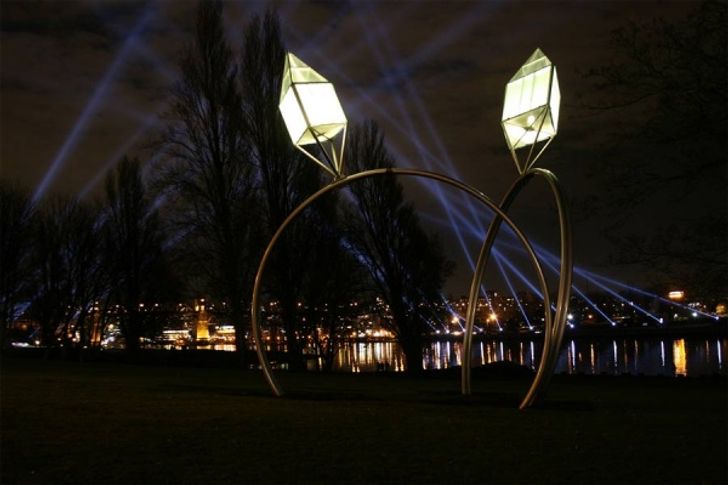 Awww. A symbol of love and commitment. These wedding rings are made from glass, aluminum and steel. They are found in vancouver,canada.They stick out from the ground firmly.
14) People by the River, Singapore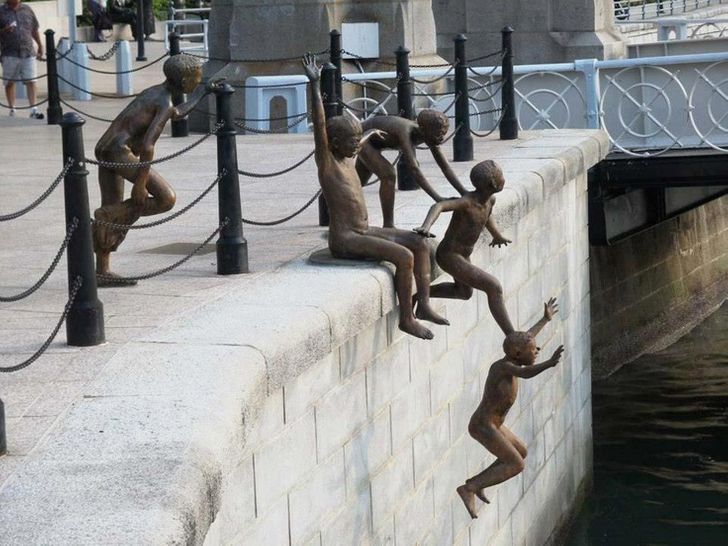 The sculptor of this statue is Chong Fah Cheong. This piece is incredible.please when visiting singapore, endeavor your children do do not go close to the bridge to jump because this statues are not real.
15) Statue of Franz Kafka, Prague, Czech Republic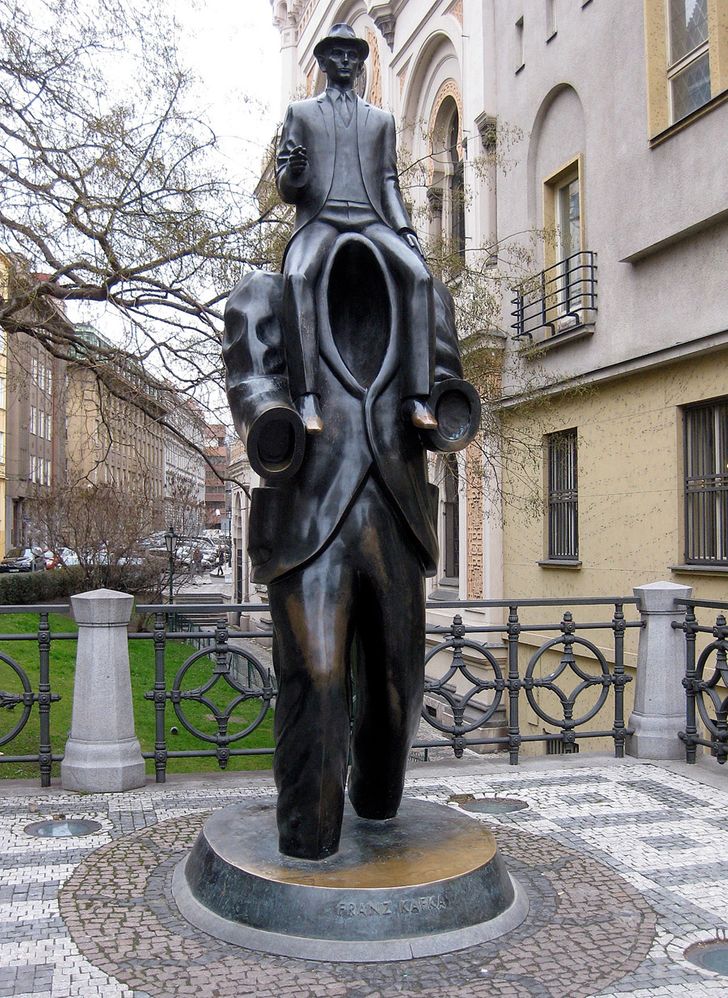 Jaroslav Róna's created this statute.some people say that it is a symbol to the Kafka's 'Description Of A Struggle', as the character became jealous of a traveller and climbed onto his shoulders to see the world through his eyes. Having seen the world through his eyes, his jealousy towards him disappeared, because he found out that everyone has their burdens. Wierd isn't it?
16) Bureaucratic Themis, Denmark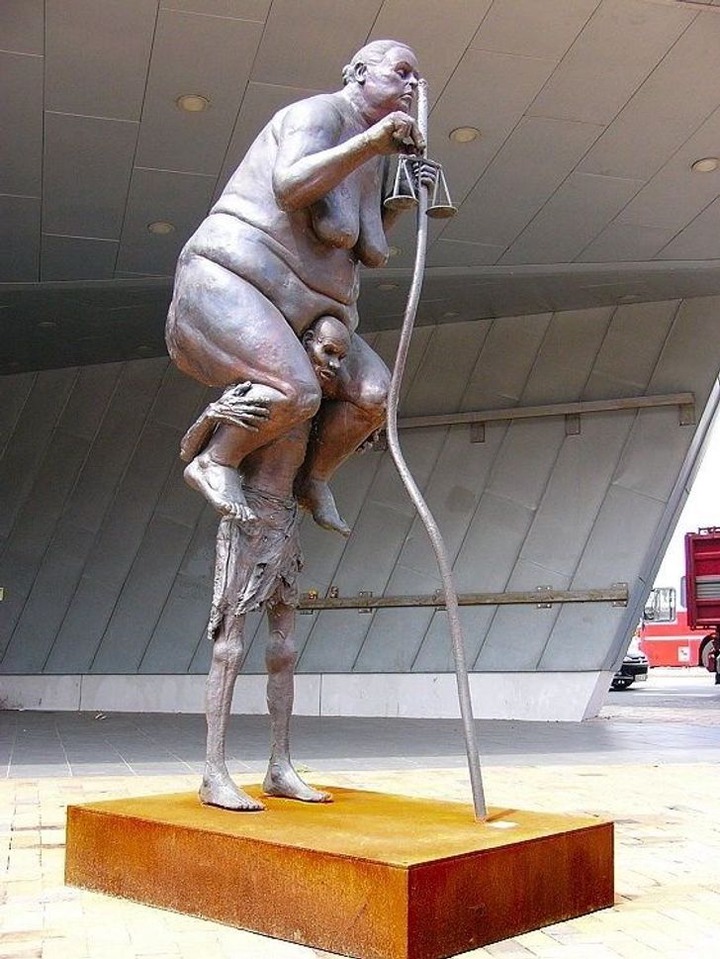 This is the statute of a slender and frail Man carrying an obese woman on his shoulders,while the obese woman holds a balance of scale as the goddess of Justice and equality. The Danish sculptor Hena Galschiot symbolised the statue to be Africa and the Industrial world. Hmmm... I urge you to think deeply.
17) Monument to Sigmund Freud, Prague, Czech Republic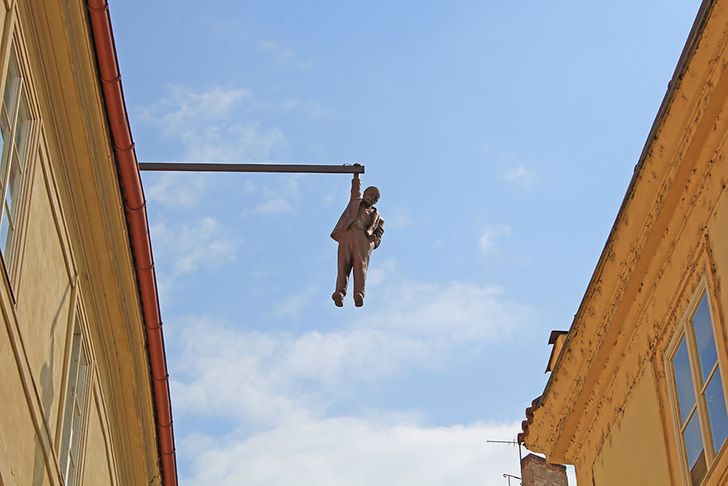 This floating statue was constructed by Czech sculptor David Černý .It was made in honour to sigmund Freud. He made it to show the difference and distance between intelligence and ordinary.Do you think he may fall at any time?


18) Mount Rushmore, United States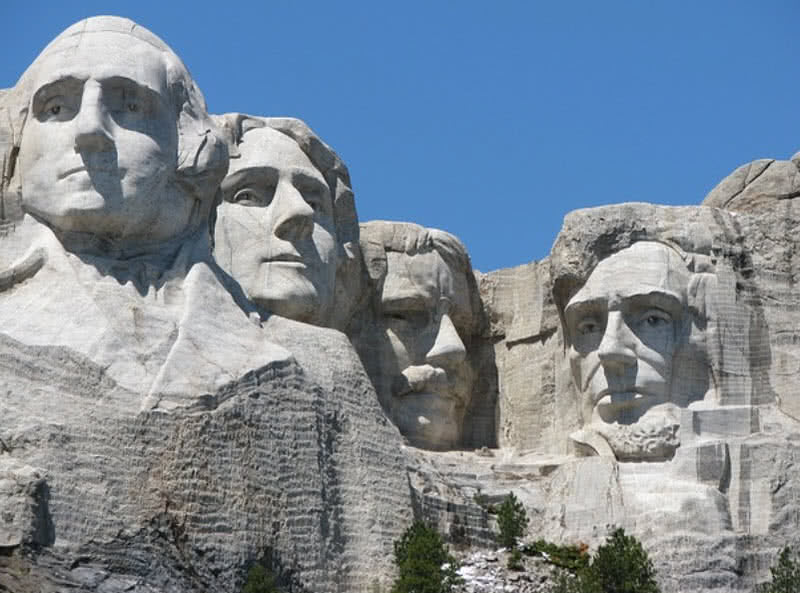 This sculpture is located in South Dakota, United States. The faces of 4 United State's presidents are carved in this rock.They are George Washington, Thomas Jefferson, Theodore Roosevelt and Abraham Lincoln. millions of people visit this national monument yearly.This monument was built for almost 14 years. It has been captured in some Hollywood movies.This monument is a sign of historical greatness and power to the American people.These former presidents had a great impact in the economy of the United States.
The end.Hope you enjoyed reading this article?
Please don't forget to click my profile and like my #facechangechallenge video😂🙈Mama Laide no dey carry last.Thank you🙂
Content created and supplied by: Patrarose (via Opera News )
Opera News is a free to use platform and the views and opinions expressed herein are solely those of the author and do not represent, reflect or express the views of Opera News. Any/all written content and images displayed are provided by the blogger/author, appear herein as submitted by the blogger/author and are unedited by Opera News. Opera News does not consent to nor does it condone the posting of any content that violates the rights (including the copyrights) of any third party, nor content that may malign, inter alia, any religion, ethnic group, organization, gender, company, or individual. Opera News furthermore does not condone the use of our platform for the purposes encouraging/endorsing hate speech, violation of human rights and/or utterances of a defamatory nature. If the content contained herein violates any of your rights, including those of copyright, and/or violates any the above mentioned factors, you are requested to immediately notify us using via the following email address operanews-external(at)opera.com and/or report the article using the available reporting functionality built into our Platform See More