Most of the enslaved africans across west and central africa were taken to Brazil. It's the one country in the Americas that has the largest number of afro-descended people. Brazil has been celebrated by many across the world for its rich culture, and one particular African ethnic group played a very important role in all of that.
Today we're going to speak about the religious influence of the Yoruba people on Brazilian culture. Scholars like Carter G Woodson and Melville Herskovitz have helped us understand the africanisms present amongst afro-descended people in the Americas. Lorenzo Turner helped us identify words that have survived and have become a part of everyday afro-american vernacular, specifically found amongst the Gulagichi people. He also helped us realize that certain habits such as dances, chants and shouts also remain in our culture today of afro-descent people.
The little things we take for granted seen throughout our everyday lives may be a product of Africa. For example the practice of shouting in church and singing for almost all occasions can be seen as cultural mannerisms inherited from the motherland. The yoruba people taken to Brazil along with many other African ethnic groups left their mark in South America. Yoruba influence on brazil is easily identifiable as this particular ethnic group left their mark on the social institutions, arts and religious values of the country.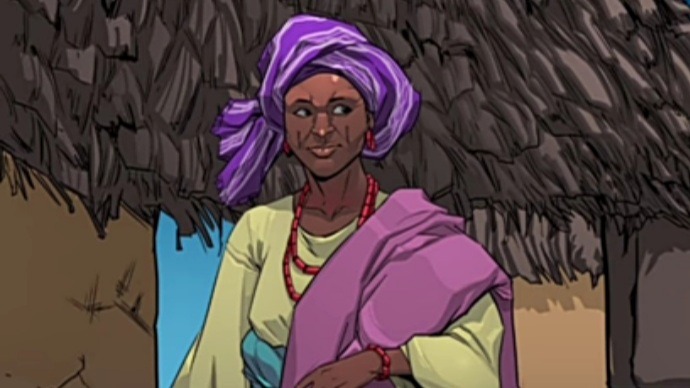 The yoruba religion has had a unique impact on the spiritual life of many brazilians. This african cosmology was transported nearly intact from Africa straight to Brazil. The enslaved Yoruba then influenced by catholicism began to blend these religions together. Interestingly enough, the introduction of catholicism did not eradicate yoruba's spirituality, but was simply absorbed into it. The enslaved yoruba of Brazil identified their deities with the saints of the catholic faith. This blend was the birthplace of Afro-Brazilian religion. Other Africans such as the various Central African ethnic groups and Africans from the Gold Coast contributed to this spiritual or religious incorporation as well.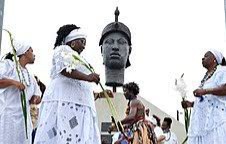 At the heart of Afro-Brazilian culture was Bahia, because this was one of the few places where yoruba religion was best preserved in the form of candomble. The worship of the Yoruba orishas in Bahia takes place in a temple known as Terreiros and the altars dedicated to the orisha are called Pejis. Unfortunately in rural areas, Yoruba culture and religion found it difficult to survive because it was perceived as a threat, but in the urban areas it was able to thrive and slave africans were granted permission to perform at public festivals, garbed in their african costumes, singing their African songs, and performing their African dances. The adherents of kendomble today worshipped the yoruba orishas, and don't consider it a contradiction that they also identify as catholics.
We find the yoruba god, Obatala, as the greatest of all the saints represented by the image of Jesus Christ. Sango is another powerful orisha in Brazil, the yoruba god of lightning and storm. He has been associated with Saint Jerome in Northern Brazil and with the wife of Saint Jerome, Santa Barbara in Rio de Janeiro. Ogun, another orisha of great popularity is the deity of war and strife in the yoruba myth. His image is that of Saint George in Rio de Janeiro and that of Saint Anthony in Bahia. The goddess Yemoja has developed a numerous following throughout Brazil. The virgin Mary in her various forms is generally associated with this water goddess.
Even though yoruba religion has survived amongst afro-descent people in Brazil, it's of course slightly altered. Very few condomblades carry out in full all the steps and phases of the sacred yoruba initiation rites, and the majority of initiates in Brazil are women. Many of these women have gained social recognition as powerful intermediaries of the orishas. This elevation of women is not necessarily mirrored amongst the Yoruba in Africa, and it may have occurred in Brazil due to men and women sharing the same status as enslaved people, keeping both in powerless positions.
So, it's interesting to see how outside forces may have played a role in shaping the structure of the religion itself. Although many of the Afro-Brazilian religions were looked down upon. Today condombley and other Afro-Brazilian religions gained significant increase in social acceptance even on a national level. Brazilian literature, music and art have all been impacted by yoruba religion and cosmology, and it's one of the reasons why Brazil is seen as a unique South American country.
I hope you enjoy reading this. What are your thoughts? Kindly tell us in the comment section. And do not forget to like and share this article. 
Content created and supplied by: Technome (via Opera News )